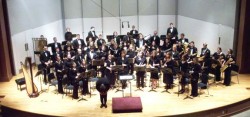 Drake Concert Band
CONTACT: Lisa Lacher, 515-271-3119, lisa.lacher@drake.edu
The Drake University Concert Band will perform a free concert on
Tuesday, March 4, featuring both traditional and contemporary music.
The concert will start at 8 p.m. on Jordan Stage in Sheslow Auditorium in Old Main, 2507 University Ave.
The Concert Band, conducted by Drake Assistant Professor of Low
Brass Grady McGrannahan, will open the concert with the following
traditional works:

"A Festival Prelude" by Alfred Reed
"Pageant" by Vincent Persichetti
"The National Game" by John Phillip Sousa
Walter Beeler's transcription of "Rhosymedre," a Welsh song for organ by Ralph Vaughan Williams
The second half of the concert will be devoted to more contemporary pieces, such as:

"Sinfonia V: Symphonia Sacre et Profana" by Timothy Broege
"Dusk" by Steven Bryant
"Mambo Furioso" by Brant Karrick, which is a tribute to mambo king Tito Peunte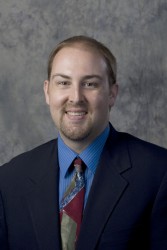 Grady McGrannahan
McGrannahan joined the Drake faculty last fall and serves as assistant
director of bands. He earned his Bachelor of Music Education in
trombone performance from Indiana University and a Master of Music in
trombone performance from Northwestern University. He is a doctoral
candidate at Florida State University, where he taught previously.
In addition, McGrannahan has performed with many professional ensembles
throughout the country, most recently serving as bass trombonist with
the Tallahassee Symphony. In addition, he has been a member of several
orchestras and performed with the esteemed trombone faculty of the
Indiana School of Music.
For more information about the March 4 concert, which was originally scheduled for March 1, call 515-271-3975.