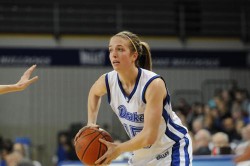 Lindsay Whorton
Drake senior guard Lindsay Whorton (Independence, Mo./Truman) became just the third women's basketball player in school history to be selected as a first team Academic All-America selection when she was named to the five-player ESPN The Magazine Academic All-America squad on Tuesday, Feb. 26.
Joining Whorton as first team Academic All-America selections in the University Division are Delaney Conway of Portland State University, Jackie McFarland of the University of Colorado, Laura Rudolphi of Indiana State University and the 2008 Academic All-America of the Year, Candace Parker of Tennessee.
"I think this is a great accomplishment and honor to be included in the tradition at Drake in terms of being the complete student-athlete, both academically and athletically," Whorton said. "I think it is a great tribute to our team because individual honors are team honors and we're having a good year with a lot of success and I think this is a representation of that."
Whorton became only the third Bulldog to earn first team Academic All-America recognition, joining Jan Jensen (1990 and 1991) and Tricia Wakely (1996). Jan Jensen was named national Academic All-America Player of the Year in 1991, while Wakely shared the honor in 1996.
"No one deserves the honor more than Lindsay," Drake head coach Amy Stephens said. "She'll be a Rhodes Scholar candidate next year, she's an outstanding person and basketball player and she exemplifies everything student-athletes at Drake are all about. We are extremely proud for her to receive this award."
An English and education double major, Whorton boasts a 4.00 grade-point average.
A native of Independence, Mo., Whorton has started all 25 games for Drake and is averaging 14.2 points and 4.1 rebounds per game.
She is ranked third in the Missouri Valley Conference in three-point field goals made (2.20), sixth in scoring (14.2) and 14th in assists (2.72). In conference-only tilts, she sits fifth in three-point field goals made (1.86), ninth in scoring (13.1) and 11th in assists (3.00).
She is tops in school history in three-pointers (250) and has posted 19 double-figure scoring games this season, including three of over 20 points.
She is the active leader in the MVC in three-pointers (250), for both men and women and she ranks among all-time MVC leaders in three-pointers attempted (2nd-746) and three-pointers made (6th-250).
The Bulldogs host Indiana State on Friday, Feb. 29. The contest begins at 7:05 p.m. in the Drake Knapp Center.