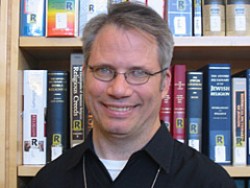 Devin Pendas
CONTACT: Tory Olson, 515-271-1834, tory.olson@drake.edu
Devin Pendas, associate professor of history at Boston
College, will deliver a lecture titled "Law and Democracy: Trying Nazi
Crimes in German Courts, 1945-1950" at 7 p.m., Monday, March 10, at Drake
University.
The event, which is free and open to the public, will be
held at Sheslow Auditorium in Old Main, 2507 University Ave. A reception will
follow in Levitt Hall.
Professor Pendas is the Judith B. and Burton P. Resnick
postdoctoral fellow at the United States Holocaust Memorial Museum in
Washington, D.C., where he is working on a study of Nazi trials conducted in
German courts in the 1940s.
Covering thousands of trials conducted in all four
occupation zones, his work examines the first and most thorough case of what is
now called "transitional justice." In particular, his research
focuses on the interaction of law and politics in these trials and the role
they played in the emergence of democracy in West Germany and a Stalinist
dictatorship in East Germany.
He is the author of numerous articles including "The
Frankfurt Auschwitz Trial, 1963-1965: Genocide" and "History and the Limits of the Law." Pendas
also is the recipient of several awards including the 2000 Ignacio Martin-Baro
Human Rights Essay Prize for Law and the MacArthur Dissertation Fellowship from
the Center for Advanced Studies in International Peace and Cooperation.
Pendas received a bachelor's degree in history from Carleton College and a
master's degree and doctorate in history from the University of Chicago.
The lecture is sponsored by Marvin and Rose Lee Pomerantz
through a generous grant to the United States Holocaust Memorial Museum in Washington,
D.C. Marvin Pomerantz is chairman and CEO of Mid-America Group of West Des
Moines and a former member of the Drake University Board of Trustees. He and
his wife are frequent and generous contributors to Drake projects.
The museum's Center for Advanced Holocaust Studies promotes the development of
the field of Holocaust studies through research, fellowship programs, seminars,
publications and conferences. The center also is linked with higher learning
institutions through activities that foster quality teaching about the
Holocaust at American colleges and universities.
For more information about the United States Holocaust Memorial Museum, visit the Web site.