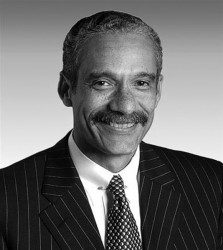 Robert J. Grey Jr.
CONTACT: Tory Olson, 515-271-1834, tory.olson@drake.edu

Drake Law School's 71st annual Supreme Court Celebration will culminate with the Supreme Court Banquet on Saturday, March 8, featuring a keynote speech by former American Bar Association President Robert J. Grey Jr. The banquet will begin with a reception at 5:30 p.m., followed by dinner and the program at 7 p.m. at the Des Moines Marriott in downtown Des Moines.
Grey is a partner at Hunton & Williams law firm in Richmond, Va., where he focuses on administrative matters before state and federal agencies. He also is affiliated with McCammon Mediation Group Ltd., which allows him to continue practicing mediation and dispute resolution on a state and national level.
He served as president of the American Bar Association from 2004-05, where he worked to review and update ABA programs, increase diversity in the legal profession, advance ABA's international rule of law efforts and safeguard the profession's independence. He also served as chair of the ABA House of Delegates, becoming the first African American to be an officer of the association.
The Supreme Court Celebration also will include dinners for the Drake Journal of Agricultural Law, Drake Law Review and Drake Moot Court. In addition, there will be the annual Supreme Court Competition.
Each year, outstanding advocates in the law school compete in the Supreme Court Competition for the honor of presenting final arguments to the Iowa Supreme Court. The competition is based upon a real case, using an actual record that was pending before the Iowa Supreme Court, thus giving competitors a realistic experience. This year's case involves a personal injury claim related to lead poisoning against the landlord and property manager of a residence containing lead paint.
The competition is open to all second and third year law students and consists of two preliminary rounds, one on-brief and one off-brief. Each competitor argues individually in the preliminary rounds, with 15 minutes of time allocated to each advocate. The four top advocates based upon oral scores from the preliminary rounds advance to the Supreme Court Competition before the Iowa Supreme Court at 10 a.m. Saturday, March 8, at the Iowa Judicial Branch Building, 1111 East Court Ave. The four finalists are paired as teams of two for the final round, each arguing for 10 minutes. The award for the Best Oralist in the final round is then announced at the Supreme Court Celebration Banquet.
For more information or to make a reservation, visit the Web site or contact Jennifer Allamby at 515-271-1877 or Jennifer.allamby@drake.edu.