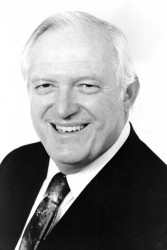 Don Davidson
Pharmacy students to gain state-of-the-art practice lab

Drake University Trustee Don Davidson, PH'50, is making a $300,000
gift to renovate the Donald F. Davidson Pharmacy Practice Laboratory in Fitch
Hall.
Davidson's gift will revamp the lab that was originally
established in his honor in 1997. It will provide students in Drake's College
of Pharmacy and Health Sciences with the most up-to-date resources to master
their laboratory skills before entering the work force.
"This gift will transform the
college's Pharmacy Practice Laboratory into an exceptional learning environment
for students to develop skills through interaction with the latest
dispensing and patient care
technology," said Raylene Rospond, dean of the college.
Plans for the renovation will change the space to better
resemble a pharmacy practice setting. The renovated lab will also allow
students in different levels of the pharmacy program to share a common
laboratory and collaborate, no matter their experience or expertise. The lab is
scheduled to be completed by spring 2009.
Renovation plans include:
Expansion
of laboratory space
Replacement
of lab benches with eight mobile individual work units for drug
dispensing, patient counseling and assessment
Creation
of space for drug distribution system examples found in long-term care and
hospital pharmacy settings
Installation
of new audiovisual technology, making the lab a true electronic classroom
Development
of an over-the-counter product laboratory space
The updated lab will help the college continue to meet the
evolving standards set by the Accreditation Council for Pharmacy Education for
the education of pharmacists, providing students with the opportunity to
develop critical thinking and problem-solving skills in the laboratory
experience.
"It gives me a great deal of satisfaction to make this
gift possible," said Davidson, a resident of Laguna Niguel, Calif.
"Pharmacy education at Drake is outstanding and ranks among the best
anywhere in the United States. I am confident the renovated Pharmacy Practice
Laboratory will allow our students to excel in this critical and practical part
of their education."
A longtime Drake benefactor and member of the Board of
Trustees since 2003, Davidson graduated from Drake in 1950 with a bachelor's
degree in pharmacy. After graduation, he practiced community pharmacy in
Illinois and then served in the Army as a hospital pharmacist at Walter Reed
Army Medical Center.
In 1955 Davidson launched a distinguished 32-year career
with Abbott Laboratories, where he excelled in numerous positions in sales and
marketing and as director of field sales for the Hospital Products Division.
While working full-time at Abbott, Davidson earned a master's degree in
business administration from the University of Chicago's Graduate School of
Business Executive Program.
He has received many honors, including Drake's Alumni
Loyalty Award, the Alumni Achievement Award from the college and the Lawrence
C. and Delores M. Weaver Medal of Honor.
Davidson chaired the Drake President's Circle for two years
and has been a member of the National Advisory Council for the College of
Pharmacy and Health Sciences for several years.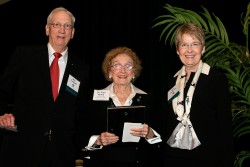 Robert Turknett, Frances B. Kinne and Carolyn Turknett at the awards ceremony.
Drake trustee honored for
character-based leadership
Drake University Trustee Frances
Kinne, FA'40, GR'44, chancellor-emeritus of Jacksonville University, recently
was honored at the Fifth Annual Turknett Leadership Character Awards Luncheon
in Atlanta. She received the Inspiration Award, a special award honoring her
lifelong contributions as a role model for leadership character in higher
education and in life.
The Turknett Leadership Awards are hosted by Turknett Leadership Group, a leadership development firm founded by
Jacksonville native Dr. Robert (Bob) Turknett and his wife, Carolyn
"Lyn" Turknett.
The awards recognize individuals
who demonstrate unquestioned integrity, who treat their customers, suppliers
and each other with respect, and who maintain a culture in which everyone takes
responsibility for achieving results and upholding their core values.
Kinne, a native of Story City, Iowa, is chancellor emerita and past president of Jacksonville University, Jacksonville, Fla. She was honored by Drake with an honorary Doctor of Fine Arts degree in 1981. The Frances Bartlett Kinne Alumni and Development Building on the Drake University campus is named in honor of her.
The awards are hosted by Turknett
Leadership Group in partnership with Kennesaw State University's Siegel
Institute for Leadership, Ethics and Character, and are sponsored by KPMG and
Crawford & Co.
Alumni, parents boost Drake's student recruitment efforts
It takes a village to recruit a university class. At Drake,
those "villagers" include alumni and parents who host receptions in
their homes for admitted students and their families.
The events are powerful tools for motivating students to
enroll at Drake. Last year, of the admitted students who attended home
receptions, more than 70 percent enrolled at Drake – by far the best
"matriculation rate" for the University's admission programs.
Drake
alumni and parents are hosting 16 home receptions this year in January,
February, and early March. The University is grateful to these dedicated Drake
hosts:
Jean Buchanan, '57, and
Bill Buchanan, BN'57, Dallas
David Cunningham, AS'85,
LW'89, GR'89, and Kelly Raines-Cunningham, LW'88, Quad Cities
Sheila McCullough Faber,
JO'89, and Chris Faber, BN'86, Chicago (Glen Ellyn)
Kristin and Gary
Glockhoff, Cedar Rapids, IA; daughter Liz graduated from Drake in 2007
David Golder, FA'79, and
Carol Golder, Chicago (Winnetka)
Pam and Scott Kappmeyer,
Chicago (Homewood); son Matt graduated from Drake in 2006 and son Ryan is
a sophomore at Drake
Shawna Kasner-Hannam,
AS'97, GR'00, Omaha, NE
Julie Knake Koch, AS'99,
and Cody Koch, AS'00, GR'01, Rochester, MN
Drake President David
Maxwell and Madeleine Maxwell, Des Moines
Jan Hartman Miller, PH'83,
and John Miller, BN'82, Kansas City; daughter Amanda is a first-year
student at Drake
Dee Dundore Mogerman,
AS'83, and Cary Mogerman, AS'82, St. Louis; son Jacob is a junior at Drake
and son Sam is a first-year student
Mike Murphy, JO'69 and
Marianne Murphy, Denver
Peggy Behrens Person,
BN'76, GR'96, and Doug Person, BN'75, Kansas City
Sharon Osika Pugh, BN'90,
and Doug Pugh, BN'90, Twin Cities
Jean Gage Wilde, ED'71,
and Greg Wilde, BN'70, Milwaukee; son Nate graduated from Drake in 2007
Beth Hornblad Wright,
ED'97, and Jamie Wright, AS'97, Chicago (Barrington)
Calling all Greeks
If
you were a member of a social sorority or fraternity while you were a Drake
student, consider this your invitation to get involved in planning Drake's
All-Greek Reunion in April 2009, in conjunction with the 100thrunning of the Drake Relays.
We
are seeking representatives of every Greek organization that has had a chapter
at Drake as well as ideas for reunion activities.
Should
we have a "Greek Idol" version of an alumni Sweetheart Sing?
Competitions to see which organization can get the most alumni on campus for
the fun?
This
is your reunion, so let's make it memorable. Contact Barb Dietrich Boose,
director of alumni and parent programs, at 515-271-3077 or
barbara.boose@drake.edu.
This
year, several sororities and fraternities will host Relays events for alumni; watch
future issues of "eBlue" and the Drake alumni Web site for updates. To date:
The Alpha Xi Chapter of
Tau Kappa Epsilon fraternity will celebrate its 75th anniversary during Relays. Events include an open house at 1316 34th St. on Saturday, April 26, starting at 11 a.m., and a reception and dinner
beginning at 6:30 p.m. that evening at the Embassy Suites on the River,
101 East Locust St., Des Moines. A silent auction will be held at the
reception and dinner to benefit the William H. Wisdom Scholarship Fund.
For more information, contact 75th anniversary chairman Brian
Bates, AS'93, at brian@brianbates.net or 678-358-6830, or chapter advisor Mike Vogel, JO'95, at mikvogel@gmail.com or 515-971-6840.
The women of Kappa Kappa
Gamma invite KKG alumni to their Relays Open House on Saturday, April 26,
from 11a.m. to 1 p.m., at 1305 34th St. For more information,
contact Drake student and KKG corresponding secretary Calla Parochetti at cap019@drake.edu.

Jennifer Fix, Geoffrey Lawton and David Sohl
Drake alumni honored at annual
Pharmacy and Health Sciences Day
Three outstanding pharmacy alumni
were honored at the College of Pharmacy and Health Sciences' 21ststudent-organized Pharmacy and Health Sciences Day Feb. 26.
The 2008 Alumni Achievement Awards
were presented to Jennifer Fix, PH'85, MBA'86, and Geoffrey Lawton, PH'92. The
2008 Young Alumni Achievement Award was given to Lt. David Sohl, PH'04.
The honorees were selected based
on their service to the College of Pharmacy and Health Sciences, distinction in
their careers and recognized civic and community contributions.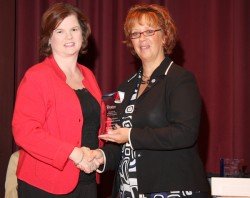 Jennifer Fix accepts Alumni Achievement Award from Dean Raylene Rospond.
Fix, a resident of Haltom City, Texas, is president of Jen-Rx Inc. and owner of the Medicine Shoppe in Halton City. In addition, she is a consultant and instructor for Technician Training.
Fix was awarded the American Pharmacists Association Good Government Pharmacist of the Year award in 2007. She now serves as director of the Texas Pharmacy Association and Academy of Independent Pharmacists, as well as preceptor for the University of Texas and Drake University.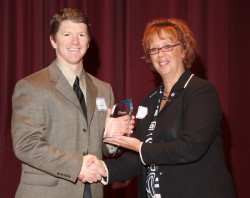 Geoffrey Lawton accepts Alumni Achievement Award.
Lawton, a resident of Englewood,
Colorado, is vice president of business
development and physician services at Littleton Adventist Hospital.
Lawton is a fellow with the
American Society of Health-System Pharmacists and was named Pharmacist of the
Year by the Colorado Pharmacists Society in 2006.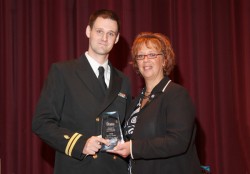 David Sohl accepts Alumni Achievement Award from Dean Raylene Rospond.
Sohl, a resident of Corpus
Christi, Texas, is a lieutenant of the Medical
Service Corps for the U.S. Navy. He previously received the Navy and Marine
Corps Achievement Medal.
Sohl also was named the Navy
Junior Pharmacist of the Year in 2006. He now serves as the head of pharmacy at
the Naval Hospital Corpus Christi, as well as on the Navy Pharmacy Advisory
Board.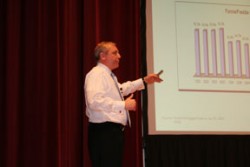 Bruce Foster addresses the sub-prime mortgage market crisis to the Drake community in Sheslow Auditorium.
Alumnus Bruce Foster explores solutions to lending crisis

Bruce Foster, BN'78, shared his expertise with the Drake
community on the sub-prime mortgage market by offering solutions for the
future.
"These solutions might help us not repeat the mistakes
of the past, and avoid unintended consequences," he said during the recent
Executive in Residence Lecture.
His suggestions for consumers and lenders were to:
Create
penalties for lenders not following lending laws
Implement
consequences for fraud
Educate
consumers
Mandate
federal licensing for brokers
Foster also discussed the history of the sub-prime mortgage
mess.
"Lenders' corporate memory has failed," he said.
"They have failed in the past and they are failing this time."
Foster's speech proved valuable for first-year student Byron
Spears. "I liked how he explained the complexities of the housing crisis
and how past trends will affect the future," said Spears, a management
major from Kansas City.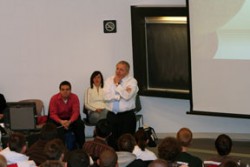 Bruce Foster shares expertise with students in business class during his visit.
In conjunction with the lecture, Foster spoke in several classes and had lunch with students.
Foster founded his own consulting practice in 2007. The company caters to corporate treasury functions and mortgage banking and deals company deals with financial engineering issues for the financial services industry.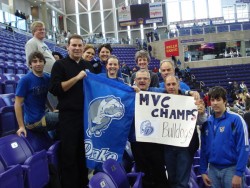 Enjoy alumni photos online
When the Drake men's basketball team became the 2008 Missouri Valley Conference championships after defeating the University of Northern Iowa Feb. 16, hundreds of Drake fans were there to celebrate.
They included Doug Clark; Jeremy Franklin; Tom Franklin, BN'81; Tarryl Donley Clark, LA'83; Lisa Norbury Kilian, ED'83; Julia Kilian; Bryan Moon, ED'84, GR'94; Carla Moon; Mark Kilian, BN'83 (in back); Paul Osika, JO'82; and Matthew Kilian.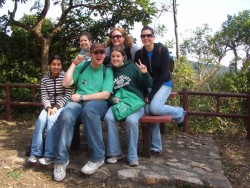 These 2007 Drake graduates gathered in Hong Kong recently to celebrate the Chinese Lunar New Year.
In the front row are Sherly Jacob, AS'07; Jeremy DeFoe, AS'07; and Jenna Wilcox, AS'07; in the back row are Lauren Smith, AS'07; Erin Delahanty, JO'07; and Michelle Gombas, AS'07.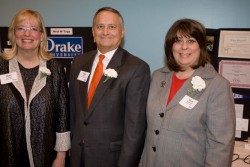 Mary Gordon, Neal Topp and Hope Bossard at awards banquet.
School of Education recognizes three outstanding alumni
The School of Education honored three outstanding alumni at the school's annual Alumni Awards and Senior Recognition Dinner on Feb. 28.
The award recipients were:
• Hope Bossard, GR'93, ED'00, director of curriculum and school improvement for Gilbert Community Schools and adjunct professor of education at Drake University. A resident of Radcliffe, Iowa, Bossard received her master's and specialist degrees in education from Drake.
• Mary Gordon, ED'70, GR'85, former principal of Greenwood Elementary, Windsor Elementary and Howe Elementary Schools in Des Moines. A resident of Des Moines, Gordon received her bachelor's, master's and specialist degrees in education from Drake.
• Neal Topp, FA'72, GR'87, a professor in the teacher education department at the University of Nebraska at Omaha, where he was named the Varner Professor by the University of Nebraska in 2000 and the Nebraska Technology Professor of the Year in 1995. A resident of Omaha, Topp received his bachelor's of music education and master's of educational administration from Drake.