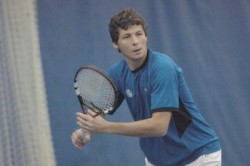 Dalibor Pavic
The Missouri Valley Conference has announced that Drake senior Dalibor Pavic (Adelaide, Australia) has been selected as the State Farm/MVC Men's Tennis Player of the Week.
Pavic, currently No. 16 in the latest Intercollegiate Tennis Association (ITA) rankings, contributed a pair of victories to Drake's 6-1 victory over Western Illinois on Jan. 26. He improved to 19-3 in singles competition with a 6-2, 6-4 victory over Zach Frisch at No. 1 singles.
He remained a perfect 4-0 in doubles in the spring as he and junior Maor Zirkin (Kibutz Hazor, Israel) registered an 8-4 decision over Neil Lesinski and Frisch at the top doubles slot.
After becoming the first Drake player to qualify for the ITA National Indoors this past November, Pavic has netted a 27-6 combined singles/doubles ledger this season.
"Dado has been playing well recently and he has continued to work very hard on his improving game for what we hope is an extremely successful spring," Bulldog head coach Chase Hodges said.
The Drake men's tennis team moved up one spot to No. 51 in the latest Intercollegiate Tennis Association's (ITA) weekly rankings released last Tuesday.