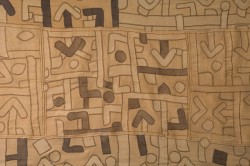 Kuba appliqué skirt, embroidery and cut pile, The Democratic Republic of the Congo, 17 x 18 in.
CONTACT: Heather King, 515-271-1994, heather.king@drake.edu
African art scholar and Kuba textile expert Patricia J. Darish will give a lecture on the meaning and cultural significance of design motifs used among the Kuba people of the Democratic Republic of Congo on Friday, Feb. 8.
The lecture complements the "Woven Traditions: Central and West African Textiles" exhibition at the Anderson Gallery, which features works from the collection of Drake faculty members Lenore Metrick-Chen and Phillip Chen.
The lecture, titled "The Leopard's Spots: Surface Designs and Raffia Textiles of the Kuba," will start at 5:30 p.m. in room 336 of the Harmon Fine Arts Center, 25th Street and Carpenter Avenue. This event is made possible by a grant from Drake's Center for the Humanities.
Darish, an independent scholar based in Washington, D.C., and a former professor of art history and African studies at the University of Kansas, has an unparalleled depth of knowledge concerning Kuba visual languages.
Immediately following her lecture, a reception will be held at Anderson Gallery in the Harmon Fine Arts Center. Darish will then host a gallery walk through the "Woven Traditions" exhibition, giving particular attention to the 12 Kuba cloths on display. The Chens will bring additional Kuba textiles for Darish's impromptu interpretations.
The lecture, reception, gallery walk and exhibition are free and open to the public. "Woven Traditions" will continue through Feb. 22. Gallery hours are noon to 4 p.m. Tuesday through Sunday.
In conjunction with the African textiles exhibit, Drake Students in Free Enterprise (SIFE) have a display of African arts and crafts in the Weeks Gallery upstairs from the Anderson Gallery. The exhibit, which is part of SIFE's "Constructing Bridges Across Global Societies Initiative" aimed at teaching the community about global issues and equipping people with tools necessary to succeed in a global environment, continues through Friday, Feb. 15. It is free and open to the public.
For more information, contact Heather King, director of the Anderson Gallery, at 515-271-1994 or heather.king@drake.edu