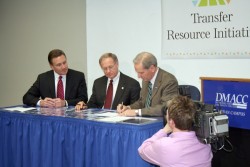 Grand View President Kent Henning, Drake Provost Ron Troyer and DMACC President Rob Denson sign admissions partnership agreement at news conference.
TRI program designed to grow well-educated, motivated Central Iowa workforce.
Leaders of Grand View College, Drake University and Des Moines Area Community College (DMACC) today signed a new admissions partnership agreement that's designed to help more students earn a four-year degree and encourage them to live and work in Central Iowa.
"This is an historic event that will benefit the educational and economic development of this region for many years to come," said Rob Denson, President of DMACC. "We have always enjoyed excellent relationships with Drake and Grand View, but this new agreement demonstrates that we are all working for the greater benefit of Central Iowa."
Denson was joined by Drake Provost Ron Troyer and Grand View President Kent Henning in announcing the agreement, called the Transfer Resource Initiative (TRI). The announcement can be viewed on YouTube.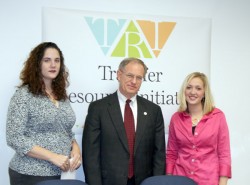 Drake students Melanie Paullin-Castro, Anne Wetzel and Provost Ron Troyer discuss the new admissions partnership.
TRI is a collaboration among the three Des Moines Consortium
institutions. DMACC students planning on transferring to either Drake
or Grand View can apply for the program. Once accepted, these students
will benefit from a number of TRI Program opportunities. Some that will
better help connect students to their transfer institution include:
dual advising for timely progress towards graduation, early orientation
and registration for the first semester of transfer, library and e-mail
access, participation in campus organizations and student activity
passes.
"All of us benefit from working together," said Henning. "Our hope is
that DMACC students will now have a stronger incentive to pursue a four
year degree in Des Moines. It will provide a seamless transition to
reduce the transfer shock of switching schools."
"This truly is an exciting example of our responsibility to the public
good," Drake President Maxwell said in a statement. "Drake is committed
to opportunity and access, and high school students, our three
institutions and the community will all benefit from this
collaboration."
Maxwell added, "We hope to make an impact on Iowa's 'brain drain' —
students leaving Central Iowa once they graduate from college —
resulting in a greater pool of well-educated professionals who are
committed to living and working in our community. Our partnership
should be a significant advantage for growing and attracting
businesses."
Interested students can immediately apply for the program, which will begin in the fall of 2008.
The program will require TRI students to meet with advisors from both
institutions each semester and maintain a minimum grade point average
to stay in the program. Upon transferring, students must meet the same
current criteria for admission as any other transfer student. If
students follow the transfer plan provided by their advisors, it may be
possible to earn a bachelor's degree within two years of full-time
study after earning an associate's degree

from DMACC.
DMACC students can choose from more than 60 academic majors at Drake or
Grand View. "Participating students will have a positive experience in
this program. We anticipate great interest among DMACC students," said
Denson.
The three presidents said their respective schools have a track record
of cooperation. Some examples include cross enrollment classes between
institutions, co-sponsorship of cable Channel 16, joint curriculum
development, consultation on crisis management and campus security.
To register online, go to any of the three institutions' web sites for more information:

www.choose.drake.edu
www.gvc.edu
www.dmacc.edu