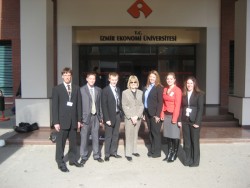 Professor Eleanor Zeff, center, gathers with (from left) Randall Weigand, Adam Stone, Christopher Huszar, Anna Kunst, Alison Bowlin and Meghan Fleming at Izmir University.
Students participate in SUNY Model European Union Simulation, tour Turkey
Six Drake students recently represented Italy and Hungary in the State University of New York (SUNY) Model European Union Simulation at Izmir University in Izmir, Turkey. The students were Alison Bowlin, Meghan Fleming, Christopher Huszar, Anna Kunst, Adam Stone and Randall Weigand.
The four-day simulation also involved students from several SUNY campuses as well as students from Bulgaria, Poland, Romania, Turkey and the United Kingdom.
SUNY New Paltz, Cortland and Buffalo State schools combined forces to direct the simulation and the optional 10-day study tour of Turkey that followed. All the Drake students, along with their professor, Eleanor Zeff, participated in both events and took the tour, which included the Aegean coast, Ephesus, Cappadocia, Ankara and Istanbul.
"This was the first time this EU simulation was held in Turkey," said Zeff, associate professor of politics and international relations. "Usually the EU simulations Drake attends do not include extensive travel, but everyone felt that a post simulation, study tour in Turkey would be a great opportunity to more fully experience its diverse culture and to better understand how a country situated between Europe, the Middle East and Asia relates to Europe and the rest of the world."
The simulation proved to be an intense and valuable learning experience for the Drake students. One of the primary topics of discussion concerned Turkey's possible accession (admission) into the European Union.
"The most important lesson that I learned from the simulation was that preparation is the best thing one can do to be successful," said Alison Bowlin, a senior pre-med student from Des Moines majoring in international relations. "It was such a challenge, but the reward was worth it."
The simulation demonstrated that the whole EU process is very complex and it's becoming more and more bogged down with each accession cycle, said Anna Kunst, a senior from Princeton, Ill., majoring in public relations and law, politics and society.
"Now that the EU has grown so large, it's hard to reach consensus among the member states and that can be frustrating," Kunst added. "There are a lot of objections to Turkish accession into the EU, but after spending some time in Turkey, I think that Turkey could be a great asset to the EU as a whole."
Bowlin said she struggles with the issue of Turkey joining the EU. "On one hand, they very much fit into the European identity, but on the other hand, I didn't meet any Turkish citizens who admit they are of European identity," she added. "I think the best thing now is for Turkey to continue striving towards the goals of one day becoming an EU member. The best thing for the EU is to treat Turkey with the decency and fairness that it has treated every other candidate for EU membership."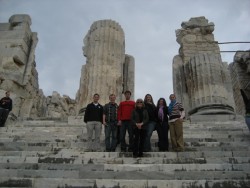 Professor Zeff and her students explore the Apollo Temple on the Aegean Coast in Didyma.
Following the simulation, the Drake group (along with over 20 SUNY
students) got an up-close and personal study tour of Turkey covering
Turkish politics and culture, led by a Turkish/American political
science professor from SUNY New Paltz. There were also several guest
lecturers, and the tour guide who discussed Turkish history and
diversity.
The students visited museums, mosques, markets, architectural
ruins, government offices and a squatter settlement. A highlight of the
trip for Kunst was the underground city of Kaymakli, which is in
Cappadocia. "It was so interesting to be able to explore the caves,
which extend seven and eight levels underground," she said. "They were
one of the most interesting places I've ever been to."
Bowlin said she most enjoyed visiting the ancient city of Ephesus, which dates back to 2000 B.C.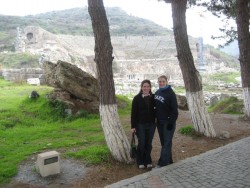 Meghan Fleming and Alison Bowlin stand near the Great Arena Theater in Ephesus, which seated 27,000 people and was the largest arena theater in Asia Minor.
"I was astonished at the magnitude of everything and could not even fathom how people back in those times could construct such astounding structures," she said.
Bowlin also found inspiration from the people in squatter villas in Ankara who are fighting to protect their makeshift homes.
"Any day the government could come and bulldoze all 18,000 homes, but the people have literally stood in front of the homes, risking their lives to save them," she said. "They want everyone to have a place to live if the settlement is destroyed. I was touched by the charm and hospitality of these people, especially the young children who aspire to be such great people in the world some day."
"Overall," she concluded, "the trip was one of the best experiences of my life and I am very eager to go back to Turkey."