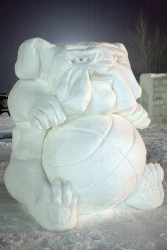 The completed snow sculpture of Spike embracing a basketball.
Drake students win snow sculpting contest
Drake University students wielded saws, machetes and even barbed wire to carve the figure of Drake mascot Spike out of an 8-foot-tall block of snow last weekend to win the 2008 Iowa College and University Snow Sculpting Contest.
Grand View College took second place in the competition, which was sponsored by Grand View as part of the Des Moines Winter Games at Sleepy Hollow Sports Park. Seven teams competed in the contest to build the best school mascot snow sculpture and raise money for charity.
The Drake team won a traveling trophy and $200, which will be donated to the Central Asia Institute, which provides community-based education programs, especially for girls, in remote mountain regions of Northern Afghanistan and Pakistan.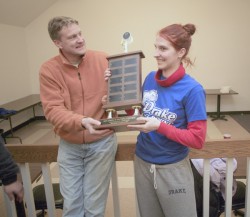 Drake Team Captain Kelly Donovan accepts the first-place traveling trophy.
Donovan is an experienced snow sculptor who participated in the 2004 and 2005 Illinois Snow Sculpting Competition in the high school division.
"I love being outside in the snow working with a material I normally wouldn't get to use for art," she said. "You get a little delirious being in the cold and snow all day and night, especially when you are wielding a machete."
The team began working on the snow sculpture at 6 p.m. Friday, Feb. 1, and continued through 11 p.m. The students resumed the project at 8:30 a.m. Saturday and worked until the awards ceremony at 6 p.m.
The winning Spike sports a snaggle-tooth smile and embraces an oversize basketball.
"Our design of a Bulldog on a ball has dual meanings," Donovan said. "It represents this season's success of the Drake men's basketball team, and it also represents a globe for the global impact Drake students make, specifically for our chosen charity, the Central Asia Institute."
"I was excited about the opportunity to be in a sculpting competition, but then I found out about how it all benefits a charity, and that sealed the deal," said Nicki Werner, a junior sculpture major from St. Louis.
Donations are still being accepted for the Central Asia Institute. Those who wish to contribute may donate online by visiting the institute's Web site at www.ikat.org, then sending an e-mail message to ked005@drake.edu to inform the team of the donation.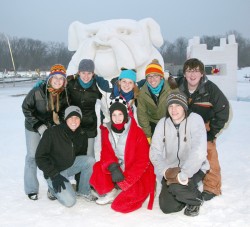 The Drake team poses in front of the finished Spike.
The Drake team consisted of Brian Booher, Kelly Donovan, Mistique Hecksel-Read, Tara Lange, Anthony Roark, Hunter Seuntjeus, Paul Utesch and Nicki Werner.