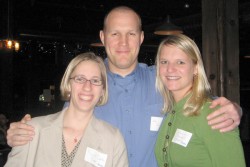 Rachel Dykstra Boon, ED'99, GR'02; Adam Boon, AS'01, PH'03; and CoraLynn Becker Trewet, PH'03.
Enjoy alumni photos online
The hundreds of alumni who got together both spontaneously and at "official" events recently included Rachel Dykstra Boon, ED'99, GR'02; Adam Boon, AS'01, PH'03; and CoraLynn Becker Trewet, PH'03, who attended a Central Iowa young alumni event in Des Moines on Jan. 15. Utley Noble, LA'85, LW'88, organized his 18th annual "Drake A Mania" event for alumni and friends in Nashville this month, too.



You can view photos of alumni and campus events in Drake's online photo galleries.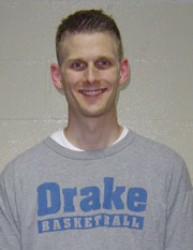 Andy Pawlowski
Seen in the Knapp Center: Andy Pawlowski
Among the 7,152 fans at the sold-out men's basketball battle between Drake and Creighton Jan. 30 was Andy Pawlowski, BN'98, who played on the Drake team in the mid-1990s when – well, when the Knapp Center wasn't selling out.
Pawlowski was a seldom-used reserve who had a career night when he helped Drake upset an Iowa State team, 48-44, that eventually went to the 2000 NCAA Elite Eight. Pawlowski went on to a successful stint with Rawlings Sporting Goods and recently accepted a job with Nike where he will be involved with basketball marketing in China and Japan.
"With the Olympics in Beijing this summer, Nike is building a team that is focused on defining and growing basketball in these markets," Pawlowski relayed to Drake Sports Information Director Mike Mahon via e-mail. "It's scary, crazy, and the only thing I'm sure of is that I'm going to grow and learn (hence my reasons for taking it, on top of the whole chance to get back in basketball)."
Pawlowski will be based in Portland, Ore., and hopes his new boss will let him fly back to St. Louis for the men's Missouri Valley Tournament in March.

Drake Choir coming to northern Iowa, Minnesota's Twin Cities
They're so good, it's as if they can fly: Catch the outstanding Drake Choir and Chamber Choir when they perform in March in Mason City, IA, and Excelsior, MN.
The ensembles will sing repertoire by contemporary composers from the United States, Spain, Australia and Hungary; works by Mozart, Haydn, Palestrina and Morley; and folksongs and spirituals. Drake's male a cappella ensemble, PickSix, will also perform.
The Drake choirs will perform in Mason City with the Mason City High School Choir at Trinity Lutheran Church, 213 North Pennsylvania Ave., at 8 p.m. on Wednesday, March 12. The choirs will perform with St. John's University in Collegeville, Minn. in The Great Hall at 8 p.m. on Thursday, March. 13. In addition, in Excelsior, near the Twin Cities, the choirs will perform with the Minnetonka High School Concert Choir at the Mount Calvary Lutheran Church, 301 Oak St., at 8 p.m. on Friday, March 14. Receptions are planned after each concert.
The Drake Choir is the University's select touring ensemble. It has performed in Austria, Germany, Italy, and the Czech Republic and will tour to Rome, Assisi, Florence, Vienna, Melk and Salzburg in May 2008. In June 1998 the Drake Choir made its Carnegie Hall debut and returned there in June 2002.
The Chamber Choir is a select ensemble of 24 singers drawn from the Drake Choir. It is the featured ensemble for the annual Madrigal Dinners presented during the holiday season. In January 2006, the Chamber Choir toured England, performing at the cathedrals of Salisbury, Winchester and Ely, as well as at St. James Piccadilly, the Grosvenor Chapel in London and St. John's College Chapel, Cambridge University.
Want to try a triathlon?
Last year, several intrepid Drake alumni participated in the first-ever Hy-Vee Triathlon held in Des Moines, and they want to do it again this year. This year's triathlon, on June 22, will be an Olympic team selection event for American athletes, but it's fun for "amateurs," too.
The triathlon involves a 1,500-meter swim in Des Moines' Gray's Lake; a 40-kilometer bicycle race around Gray's Lake Park; and a 10-kilometer run that ends at the Iowa Capitol Building.
Alumni already committed to compete include Doug Schaefer, AS'99; Bryan Ptak, JO'96; Rob Fornoff, AS'97; Tyler Schwiesow, AS'99; and Chad Westberg, AS'98, who participated last year. They have convinced three other friends – Jeremy Barewin, JO'97; Chris Cingrani, JO'97; and Matt Salzwedel, AS'98 – to join them. Two more friends, Chris Stangl, AS'97; and Michelle Cingrani, JO'96, are looking for a swimmer to join them as a relay team.
"You can compete in a relay if people don't want to do the entire triathlon by themselves," Schaefer explained.
To connect with this Drake group, contact Schaefer at douglasschaefer@hotmail.com or 402-932-6402, or Ptak at brptak@teksystems.com or 312-474-5562. Information about the Hy-Vee Triathlon is posted on its Web site.
Connect with Drake, fellow alumni via 'blueView'
As a Drake graduate, you recently should have received your new membership card in the Drake National Alumni Association and invitation to access "blueView," Drake's new password-protected online alumni community. With your personal Drake ID number, you and fellow alumni worldwide can enter blueView to
• search for classmates by name, college, year or city
• update personal information and choose what parts of your information other alumni can see on blueView
• learn about and register for upcoming events
• create groups of alumni by interest, geographic region, or their student organizations
• mentor students
• make gifts to The Drake Fund
• see news from around campus
• find more information about services offered by the Drake National Alumni Association, all in a secure, exclusive environment.
News and information for alumni will continue to be posted on Drake's "public" Web site and the alumni Web site.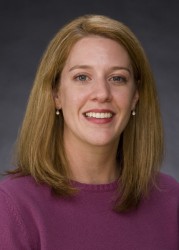 Melissa Hull
Drake grad awarded Clinical Lipid Specialist credentials
Melissa Mead Hull, a 2000 graduate of Drake University, is one of the first pharmacists in the nation to be awarded clinical lipid specialist credentials by the Accreditation Council for Clinical Lipidology.
"It is really exciting that many people practicing different specialties can now help manage risk for cardiovascular disease with these credentials," Hull said. "This one exam allows for non-physicians in multiple specialties to gain clinical lipid specialist credentials."
In order to obtain CLS certification, Hull completed a series of continuing medical education requirements and passed a rigorous examination. The ACCL, a nonprofit organization, assesses qualifications and certifies knowledge in clinical lipidology to reduce morbidity and mortality from health conditions leading to atherosclerosis and related diseases.
"It really shows that pharmacists have experience and expertise in lipidology, and helps us gain trust with patients and referring providers," said Hull, a pharmacist in Seattle.
"As the field of pharmacy continues to progress, technology advances and pharmacists perform more non-dispensing roles, other professions are recognizing what pharmacists can do to help the health-care team by having credentials in these areas of expertise," she added. "What pharmacists can bring to the team is really exciting, and other pharmacists are bound to take the exam to get the certification."
Since 2005, Hull has been a pharmacist in The Polyclinic's Lipid Clinic, which works to educate and manage conditions for patients who have had a heart attack or stroke, and for those who want to prevent one.
In addition, she has worked in The Polyclinic's Anticoagulation Clinic since 2002. The Anticoagulation Clinic helps educate patients taking blood-thinning medications on how to maximize the medication's effectiveness to reduce blood clots and decrease bleeding complications.
The Polyclinic studies the results of their program that aims to reduce the instances of heart attacks and strokes by giving a more thorough diagnosis, treatment and follow-up with patients who are at risk of these events.
Hull is a licensed pharmacist with the Washington State Board of Pharmacy and a certified anticoagulation provider recognized by the National Certification Board for Anticoagulation Providers. She has prescriptive authority protocols with the state pharmacy board for management of anticoagulation and dyslipidemia.
After graduating from Drake with a Doctor of Pharmacy degree, she completed a pharmacy residency at Overlake Hospital Medical Center in Bellevue, Wash.; was a pharmacy preceptor for pharmacy students at the University of Washington and Washington State University; and an adjunct faculty member at Seattle's University College of Nursing. She also has certification in lipid management from the University of Southern Indiana.