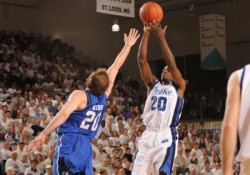 Josh Young tied a career high with 24 points against Creighton.
Drake men's basketball team claimed a 75-65 Missouri Valley Conference win against rival Creighton Wednesday night.
A sellout crowd of 7,152 witnessed the Bulldogs snap their 18th consecutive win and 15th straight home victory, which is the longest winning streak in the 15-year history of the Knapp Center.
In addition, Drake improved its league record to 10-0, marking just the fifth time in the last 50 years that a school has enjoyed a 10-0 start in the MVC. Only 20 previous teams in MVC history have started the conference schedule with 10-0 records. Southern Illinois was the last MVC school to win its first 10 league games en route to going 17-0 in the 2003-04 season.
It marked Drake's second win in eight days against Creighton after claiming a 68-60 overtime victory in Omaha, Neb., Jan. 22. Drake had not swept the regular season series from the Bluejays since the 1994-95 campaign.
The 18-game winning streak is the fourth longest winning streak by a team in Missouri Valley Conference history, tying the mark of 18 by Bradley from the last six games of the 1959-60 season through the first 12 games of the 1960-61 campaign.
Drake sophomore guard Josh Young, making his first start in six games since spraining his right ankle, equaled a career high with 24 points, including 13 in the second half. Young hit 8 of 11 shots from the floor, including six of eight from beyond the three-point arc.
Junior forward Jonathan Cox enjoyed his eighth double-double of the season, added 16 points and 10 rebounds for Drake.
Senior forward Klayton Korver became the 20th player in Drake history to score 1,000 points with a three-point basket midway through the first half.
Korver also became just the second player in Drake history to score more than 1,000 points and make 200 or more three-point baskets in his career. Luke McDonald (2000-03) is the only other player to accomplish that feat with 1,328 points and 241 three-point baskets.
The Bulldogs play again on Saturday, Feb. 2, at Indiana State and Tuesday, Feb. 5, at Illinois State. When the Bulldogs return, they will take on Evansville for another sellout crowd at home on Saturday, Feb. 9.