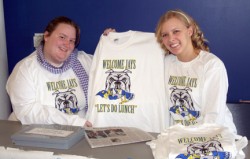 First-year students Jenni Matasek, pharmacy major from Slinger, Wisc., and Heidi Werness, secondary education major from Burnsville, Minn., sell Dog Pound shirts before Wednesday night's game.
CONTACT: Lisa Lacher, 515-271-3119, lisa.lacher@drake.edu
Drake Bulldog fans new and old are encouraged to take advantage of
691 free parking spaces located within quick walking distance of the
Drake Knapp Center, 2525 Forest Ave. These spots are in addition to the
usual reserved parking.
Drake men's basketball team hosts Creighton for a sold-out crowd at
7:05 p.m. today (Wednesday, Jan. 30) at the Drake Knapp Center. Drake fans are encouraged to wear white and T-shirts made by the student Dog Pound fan club. The shirts depict Spike the Bulldog eating Creighton's Blue Jay mascot and say, "Welcome Jays" and "Let's do lunch."
In addition to street parking, the following campus lots offer free
parking: 1100 26th St., 1161 25th St., 2600 University Ave., 2502
Forest Ave., 2600 Forest Ave., 2800 University Ave., 2809 Forest Ave.,
2800 University Ave. and 1224 24th St.


Click here for a map of these lots, where no Drake parking stickers are needed to park during Drake athletic events.
In addition to tonight's game against Creighton, the next home men's
basketball game against Evansville on Feb. 9 is sold out. This marks
the fifth and sixth consecutive home games that have been sold out in
the Drake Knapp Center.
Tickets are still available for the Bulldogs' Feb. 19 home game
with Bradley, as well as the regular season home finale against Wichita
State March 1.
Drake, which stands 18-1, is ranked No. 16 in the latest Associated
Press Top 25 college basketball poll and No. 17 in the USA TODAY/ESPN
Coaches Poll.
This is the third straight week that a Drake men's basketball
player has been named the Missouri Valley Conference Player of the
Week.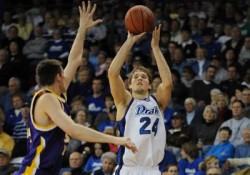 Drake senior forward Klayton Korver (Pella, Iowa) has been named Missouri Valley Conference Player of the Week.
Drake senior forward Klayton Korver (Pella, Iowa) was honored after
averaging 18.5 points, 5.5 three-point baskets, 2.5 rebounds and 1.0
steals while leading the Bulldogs to two comeback victories.
Korver shot 50 percent from floor (12-24), including 55 percent (11-20) from three-point range.
He had a team-high 14 points, and added four rebounds in the 68-60
overtime win at Creighton last Tuesday. All four baskets were
three-pointers. On Saturday, he tied a career high with 23 points vs.
UNI, while making a career-high seven treys — he was 7 of 8 from
three-point range — in a 58-54 victory.
Korver is the fourth different Bulldog to win the league's Player of the Week honor this year.
Drake sophomore guard Josh Young was named MVC Player of the Week
Dec. 10. Then junior forward Jonathan Cox and senior guard Adam
Emmenecker were honored as MVC Players of the Week Jan. 14 and Jan.
21, respectively.