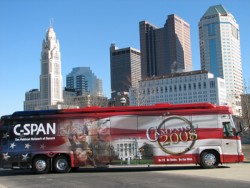 C-SPAN's Campaign 2008 Bus recently visited the Drake campus.
Today C-SPAN will broadcast "Campaign 2008 in Iowa," a recent forum held at Drake University in which leaders of Republican and Democratic presidential campaigns analyzed the upcoming Iowa Caucuses. The program is scheduled to start at 7:10 p.m. CST.
The forum, which took place Dec. 20 in Levitt Hall in Old Main, was sponsored by Drake University and IowaPolitics.com as part of their joint "Cookies and Conversation" series.
There were two panel discussions. The first panel consisted of chairs and managers of Republican campaigns. The second panel was made up of leaders of Democratic campaigns. All panelists responded to questions from Chris Dorsey, Iowa bureau chief for IowaPolitics.com, and from the audience. Dorsey also moderated the discussion.
C-SPAN is a private, non-profit company, created in 1979 by the cable television industry as a public service. Its mission is to provide public access to the political process. C-SPAN's Campaign 2008 Bus visited the Drake campus a few weeks ago, giving students, faculty and staff the opportunity to tour the vehicle, which includes a TV studio, and learn more about the presidential campaign.