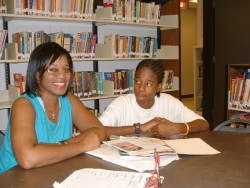 Barb Browder and her son, Shakhu, at a tutoring session.
CONTACT: Anne Murr, 515-271-3982, anne.murr@drake.edu
Drake University's Adult Literacy Center is looking for volunteers to tutor adults learning to read.
For those who are interested in tutoring, there will be tutor training sessions held on Jan. 14, 16 and 17 from 5:15-8:00 p.m. in room 214 of Drake's School of Education, 3206 University Ave. Tutors must attend all 3 sessions since they are consecutive.
"Tutoring an adult is a way to have a direct and positive impact in another person's life and indirectly, in the lives of families," said Anne Murr, coordinator of the Drake University Adult Literacy Center.
For more information and a tutor application, visit the Literacy Center's Web site or call Anne Murr at 515-271-3982.