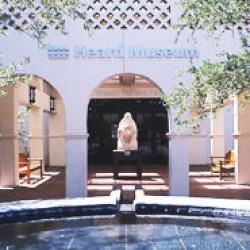 Heard Museum
Phoenix alumni invited to meet Drake leaders Jan. 18
Drake University President David Maxwell, Madeleine Maxwell and the
Drake Board of Trustees invite Phoenix-area alumni to an evening of
celebration on Friday, Jan. 18, at the internationally acclaimed Heard
Museum, 2301 N. Central Ave. The reception begins at 6 p.m., with
guided tours available from 6 to 7:15 p.m. A Southwest dinner buffet
will be offered at 7:15 p.m. Drake deans and other leaders will attend.
The Heard Museum is one of the world's premier collections of the cultures and art of Native Americans of the Southwest.
Cost of the event is $25 per person (a portion of the evening's
cost has been underwritten by the Board of Trustees). For more
information or to RSVP, please contact Barb Dietrich Boose, director of
alumni and parent programs, at 515-271-3077 or barbara.boose@drake.edu.
Central Iowa Bulldog Bash Jan. 19
The "winter edition" of Drake's Central Iowa Bulldog Bash will take
over West End Lounge – on Forest Avenue just east of Drake's Knapp
Center – on Saturday, Jan. 19, from 5 to 7 p.m. All alumni and friends
are welcome to enjoy the party and then walk to the Knapp Center to
cheer on the Drake men's basketball team as they take on Illinois State
at 7:05 p.m. For more information, contact John Brown, assistant
director of alumni and parent programs, at 515-271-3378 or
john.brown@drake.edu.
Drake golfers will swing in San Diego Feb. 16
Drake alumni and friends are invited to join members of the Drake
men's and women's golf teams for 18 holes of golf and dinner on
Saturday, Feb. 16, at the Carlton Oaks Country Club in Santee, Calif.,
just 20 minutes from downtown San Diego. Shotgun start is at 1 p.m.
The cost per person is $150 for lunch, 18 holes of golf with cart, dinner and a tee gift, or $50 per person for dinner only.
With its meandering creeks, more than 400 mature trees and majestic
lakes, Carlton Oaks incorporates the beauty of Southern California with
the qualities of modern golf course architecture. Its strategically
placed tees make the course either a gentle course for beginners or a
challenging and difficult layout for the championship-caliber player.
For more information or to register for the outing, contact Scott
Bohlender, Drake men's and women's golf coach, at
scott.bohlender@drake.edu or 515-271-1926.
Alumni event in Naples Feb. 21
Drake University alumni and friends Merrilee and Steve Nellis,
BN'64; Lee and Drake Trustee Rudy Trebels, BN'73; and Patricia and Dick
Noyce are inviting other alumni and friends to The Club at Olde Cypress
for a cocktails and hors d'oeuvres reception in Naples, Fla., with
Drake President David Maxwell and Madeleine Maxwell and other Drake
leaders on Thursday, Feb. 21, from 6 to 8 p.m.
The Club at Olde Cypress is at 7150 Treeline Drive in Naples, 1.3
miles east of I-75 at Exit 111 on Immokalee Road. Please RSVP by
Friday, Feb. 15, at alumni.RSVP@drake.edu or 1-800-44-DRAKE, x3147.
Hear the Drake beat in Chicago Feb. 24
Drake alumni, admitted students and parents are invited to jive
with some cool cats – er, Bulldogs – for an exciting evening of
conversation and music by the Drake Jazz Band, performing for one night
only on Sunday, Feb. 24, from 6 to 8 p.m. at the Metropolis Performing Arts Centre, 111 West Campbell St., Arlington Heights, Ill.
RSVP for this fun event by Monday, Feb. 18, via 515-271-3147 or
alumni.rsvp@drake.edu
.
The Drake Jazz Band has been named Outstanding College Jazz
Ensemble five times at the University of Wisconsin-Eau Claire and has
performed all over the U.S. and internationally, including numerous
times at the Montreux Jazz Festival, North Sea Jazz Festival, Notre
Dame Jazz Festival and the University of Kansas Jazz Festival.
The Drake Jazz Ensemble is beginning work on its sixth CD. You can learn more about the ensemble and listen to its music online.
Have a blast at a Bulldog Bash
The Drake Alumni Office is seeking alumni worldwide to help organize annual Bulldog Bashes in their cities. These parties, typically held at pubs and restaurants in May and June, are fun, informal ways for Bulldogs to gather and get to know fellow alumni in their area. To date, alumni in the following areas are planning their local parties – check the Drake alumni Web site for Bash details and updates:

• Atlanta

• Austin

• Boston

• Cincinnati

• Chicago – city

• Chicago – suburbs

• Dallas

• Denver

• Des Moines – winter

• Des Moines – summer

• Detroit

• Indianapolis

• Kansas City

• Las Vegas

• Los Angeles

• Louisville, Ken.

• Madison, Wis.

• Milwaukee

• Minneapolis/St. Paul

• Nashville

• New York City

• Omaha, Neb.

• Phoenix

• Quad Cities (Iowa/Illinois)

• St. Louis

• San Diego

• San Francisco

• Seattle

• Tampa/Clearwater, Fla.

• Washington, D.C.

• London

• China
Want to join the Bash planners, or help plan a Bash in your city if it isn't already on the list? It's simple! Contact Emily Weaver at 800-44-DRAKE, x3155, or emily.weaver@drake.edu to get the scoop on the easy process of choosing a date, time and venue. Planning a Bulldog Bash will help you connect with other Drake Bulldogs in your area and relive your fondest collegiate memories no matter how far you have traveled since your Drake days.
What's in your closet?
Orlando Segneri, PH'61, is seeking a 45 rpm record of the spring 1960 Sweetheart Sing performance of Sigma Phi Epsilon, which won first place that year. If you have one amid your Drake memorabilia, contact him at osegneri@aol.com or 615-948-3338.