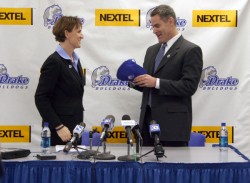 Sandy Hatfield Clubb welcomes Chris Creighton to Drake at a news conference.
Drake University's 25th head football coach Chris Creighton began
recruiting his new staff even before he got to the news conference
announcing his position.
The news conference was postponed from Dec. 21 to Dec. 22 after bad weather stranded Creighton in Detroit. The Des Moines Register reported Creighton was overheard talking on
his cell phone to a prospective assistant coach while barking "ARF,
ARF, ARF" in true Bulldog fashion at the Detroit airport during his
travel to Des Moines.
Creighton, served as head coach the past seven years at Wabash
College in Crawfordsville, Ind., where he constructed a 63-15 record
with teams winning four North Coast Athletic Conference championships,
while competing in three NCAA Division III playoffs.
"Chris Creighton's focus as a football coach is perfectly aligned
with Drake Athletics' emphasis on integrity and excellence, and with
the distinguished tradition of Drake football," said Drake President
David Maxwell.
"Coach Creighton is a proven winner, a man of strong character, and
has a vision that will move Drake football to the next level," said
Drake Athletic Director Sandy Hatfield Clubb.
Creighton, 38, owns an overall record of 95-24 (.798 winning
percentage) in 11 years as a college head coach including a 32-9 mark
as head coach at Ottawa (Kan.) University from 1997-2000.
"I am absolutely thrilled about the opportunity to lead the Drake
University football program," Creighton said. "I am very attracted to
Drake's sense of family, its proud tradition, and the desire of both
the team and the administration to become our absolute best."
During his last three years at Wabash, Creighton led the Little
Giants to a 30-5 record including three straight league championships
and appearances in the 2005 and 2007 NCAA Division III playoffs.
Wabash posted a 11-2 record this past fall, competing in the NCAA
Division III playoffs while being ranked No. 8 in the final NCAA
Division III coaches poll.
Wabash went 12-1 in 2002 and 11-1 in 2005, capping both seasons with appearances in the NCAA Division III playoffs.
He was named the North Coast Athletic Conference Coach of the Year
in 2002, 2005 and 2007, as well as the Kansas Collegiate Athletic
Conference Coach of the Year in 1997.