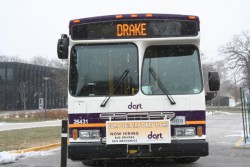 Drake employees and students now have an unlimited pass to ride DART buses.
CONTACT: Lisa Lacher, Drake University, 515-271-3119. lisa.lacher@drake.edu;
Brian Litchfield, DART, 515-283-5007, BLitchfield@ridedart.com
More than 6,400 Drake University students, faculty, staff and retirees
can ride metro-area buses for free now that Drake has become the first
college or university to join the Des Moines Area Regional Transit
Authority's Unlimited Access Program.
Drake and DART officials announced today that anyone with a valid Drake
ID has unlimited free access to DART buses beginning immediately.
"We are delighted to be joining the Unlimited Access program," said
Drake President David Maxwell. "For students, it provides a chance to
easily access the Greater Des Moines community for internships, jobs
and recreational activities. For faculty and staff, the program offers
free transportation to work and campus events."
President Maxwell is a charter signatory to the American College and
University Presidents Climate Commitment, which calls for participating
educational institutions to model ways to minimize global warming
emissions and develop plans to achieve climate neutrality.
"The Unlimited Access Program offers many benefits for Drake and the
environment," Maxwell said. "It reduces the demand for parking, helps
us recruit and retain students and employees, reduces the cost of
commuting, helps protect the environment and relieves traffic
congestion."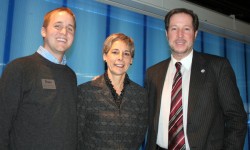 Drake Student Body President Dan Sadowski, DART Commissioner and Polk County Supervisor Angela Connolly and President Maxwell celebrate DART-Drake partnership at news conference held at Drake Thursday.
Drake Student Body President Dan Sadowski said more and more students are concerned about the environment. "This free public transportation available to the Drake community will provide the opportunity for reducing emissions and fossil fuel use," he added. "I am excited about the DART busing and, on behalf of the student body, I thank all those who have made this possible."
"We are pleased to expand our highly successful Unlimited Access Program to include Drake University and its students, faculty and staff members," said Christine Hensley, DART Commission chair and Des Moines City Council member. "The Unlimited Access Program will make it easier and more convenient for the Drake community to utilize DART services to get around Greater Des Moines, while helping save energy, commuting costs and reducing congestion and pollution."
Under the Unlimited Access program, DART and an employer establish a set annual payment based on current ridership and/or annual bus pass purchases. In exchange for the set annual payment, all employees of the organization are able to ride all DART bus service for free by simply showing their employee ID.
As part of the agreement between Drake and DART, the authority will build a new bus shelter along University Avenue and post signs with bus schedules along University and Forest avenues.
Information sessions on DART routes, schedules and the Drake-DART partnership will be held next week for Drake faculty, staff and students. The sessions will start at 9 and 10 a.m. Monday, Dec. 10, and Tuesday, Dec. 11, in Bulldog Theater in Olmsted Center.
Specific information regarding routes and services that cover Greater Des Moines is available online.
In addition, Drake Human Resources and Student Life have developed answers to "frequently asked questions" that are posted online.