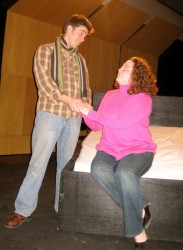 Seniors Whitney Rhodes and Jake Klinkhammer star in Drake's production of "The Last Five Years."
CONTACT: Charley Magrew, 612-703-1732, cjm017@drake.edu;

Whitney Rhodes, 402-440-7027, wrk001@drake.edu
Seniors in Drake University's Theatre Arts Department will take on a feat never before attempted when they present a full student-run musical, "The Last Five Years," as part of their academic capstone project.
Performances, which are free and open to the public, will start at 8 p.m. Friday, Dec. 14, and Saturday, Dec. 15, in the Performing Arts Hall of the Harmon Fine Arts Center, 25th Street and Carpenter Avenue.
"This show is the largest student-mounted production Drake has done," said Daryl Vitali, directing major from Alton, Ill. "Typical student shows involve a director and actors, perhaps a stage manager. This show has all of those, plus a scenic and lighting designer, props master, costume designer, publicity coordinator, run crew, board operators, a house manager and ushers."
"The Last Five Years" was written by Jason Robert Brown, who is known for his works "Parade" and "Songs For A New World." It opened at the Northlight Theatre in Chicago in 2001 before showing at an off-Broadway theatre in New York. The show is made up of solo performances, with the exception of when lead actors meet onstage in the middle of the show.
The musical received acclaim from Newsday, saying it has "unpredictably heartfelt insights, energized by a seductive, rhythmic drive."
The show takes an intensely personal look at the marriage of a writer and an actress over the course of five years. The lead male character Jamie is played by Jake Klinkhammer, a musical theatre major from Albertville, Minn., who tells his story in forward time beginning with the couple's first meeting and ending with the ultimate break-up. His wife Cathy, played by Whitney Rhodes, an acting major from Lincoln, Neb., tells her story in reverse-time, beginning with the couples' breakup and ending with their first meeting.
"This is a truly beautiful show," said Rhodes, who is also producing the show. "The structure and composition is just awesome. Brown has managed to capture the emotions of real life as an actor it's a joy to perform this material because you just know that you are saying something real. It isn't spoon fed to you like so many contemporary shows – the audience has to decide."
Faculty members in the department said they are excited about the production, and hope that it opens new doors for musical theatre and paces the way for more original works to be produced by students. In the past, students have performed excerpts from musicals as their capstone, but never provided a show of this magnitude and size.
"I was excited and intrigued when I learned the students would be taking this on," said Michael Rothmayer, professor of theatre arts and adviser to students. "Student theatre productions are usually much smaller in scale, due to budget and time constraints. I am impressed with their ambition."
Although ticket reservations are not required, tickets may be reserved by e-mailing DrakeL5Y@gmail.com.