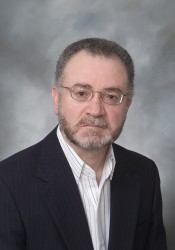 Ismael Hossein-zadeh
CONTACT: David Skidmore, 515-271-3843, david.skidmore@drake.edu;

Tory Olson, 515-271-1834, tory.olson@drake.edu
Drake University economics professor Ismael Hossein-zadeh will present a lecture titled "Hidden Costs of War and Military Spending" at 1:30 p.m. Friday, Dec. 7, in room 10 of Aliber Hall, 2847 University Ave. The lecture, which is free and open to the public, is part of the College of Business and Public Administration's faculty colloquium series.
Based on his recently published book, "The Political Economy of U.S. Militarism," Hossein-zadeh will argue that the official accounts of the cost of war and military spending under-represent the actual costs. He will focus on the central influence of powerful beneficiaries, the metaphorical fight over the allocation of national resources at home and the relationship between the choice of wars and the rise of Pentagon appropriations of taxpayers' money as a roundabout way of cutting social spending.
Hossein-zadeh earned a doctorate in economics in 1988 from New School for Social Research. Prior to joining the Drake faculty, he taught at multiple schools on the East Coast including Long Island University and La Guardia Community College. He has published two books, as well as multiple articles and book reviews.
For more information, contact David Skidmore at 515-271-3843 or david.skidmore@drake.edu.