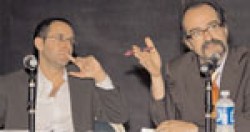 Daniel Levy and Ghaith al-0mari
CONTACT: Lisa Lacher, 515-271-3119, lisa.lacher@drake.edu
International relations experts Daniel Levy and Ghaith al-Omari will give a free public lecture at Drake University titled "Prospects for Peace in Israel and Palestine: A Conversation with the Drafters of the Geneva Accords," at 7 p.m. Friday, Nov. 16, in room 101 of Meredith Hall, 2805 University Ave.
The lecture is designed to encourage in-depth debate and offer strategic solutions to the conflicts in the Middle East.
Levy is a senior fellow and director of the prospects for peace initiative with the Century Foundation and director of the Middle East Initiative with New America Foundation. He has over a decade of experience as a senior Israeli negotiator and was the leading Israeli drafter of the Geneva Initiative, an unofficial model peace agreement negotiated between leading Palestinian and Israeli public figures. Levy also directed policy planning and international relations at the Geneva Campaign Headquarters in Tel Aviv.
Ghaith al-Omari, advocacy director of the American Task Force on Palestine, has served in various senior positions within the Palestinian Authority prior to joining the American Task Force on Palestine. He also was a member of the Palestinian negotiating team throughout the permanent status negotiations. After the breakdown of the Palestinian-Israeli negotiations, he was the legal Palestinian drafter of the Geneva initiative.
The lecture is sponsored by the Concerned Iowans for Middle East Peace and the Arab American Institute. For more information, contact Drake economics professor Ismael Hossein-zadeh at 515-271-4026, ismael.zadeh@drake.edu.