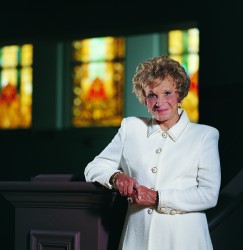 Stained glass windows in Sheslow Auditorium reflect Maddie Levitt's colorful character.
In her final year as national chair of the ambitious $190 million Campaign for Drake, Maddie Levitt told Drake President David Maxwell that the University wasn't keeping her busy enough, so she had taken a three-day-a-week position in fundraising at Iowa State University.
The fundraiser extraordinaire shared this stunning news in the midst of a reception for Drake alumni and friends.
"She was so convincing that she scared the daylights out of me," President Maxwell recalled. "I must have looked so pathetic that she caved in and reminded me what day it was — April 1."
Levitt, who often said April 1 was her favorite holiday, was renowned for her sense of humor and April Fool's Day pranks. She was even better known as the consummate civic volunteer and philanthropist dedicated to making Drake a stronger university and Greater Des Moines a better community.
When Levitt died Nov. 7 at the age of 82, Drake lost its most cheerful, enthusiastic and devoted volunteer, fundraiser and benefactor. A photo gallery showing highlights of Levitt's experiences at Drake, is posted on the Drake Web site.
"Drake has lost a dear friend, an icon and symbol of our University's enduring commitment to excellence and to enhancing the quality of life in Greater Des Moines and Central Iowa," President Maxwell said. "She has changed Drake in countless ways through her extraordinary generosity, her tireless fundraising efforts and her indomitable spirit."


Developing a devotion to Drake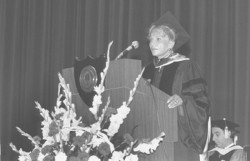 Maddie Levitt addresses Drake graduates at Commencement.
Levitt grew up in Des Moines, where her father and mentor, Ellis I.
Levitt, was a business and civic leader and a longtime member of
Drake's governing board. He transformed a small consumer-loan company
founded by his father, an immigrant from Lithuania, into a
nationwide lending operation known as Dial Finance Corp. By the time
Norwest acquired the company in 1982, Dial had grown into a $1 billion
a year business with more than 450 offices across the country.
Ellis Levitt wasn't notable just for his success in business. He
shunned fancy cars and houses, preferring to invest his resources in
charitable and educational organizations — supporting everything from
distinguished professorships at Drake to the auditorium at the Des
Moines Art Center.
He was a role model for his daughter, Madelyn, and she enthusiastically embraced
his philosophy of sharing and caring. "He always used to say that any
fool can give money away," she said. "The challenge is to give it away
so that it doesn't become a liability to the community."
Where no woman had gone before
In 1985 Levitt became the first woman to chair the annual campaign for
United Way of Central Iowa, raising more money than ever. In
1987 then-Drake President Michael R. Ferrari invited her to lunch. She
often said she didn't expect it to be a free lunch, but never dreamed
that it would lead to her becoming national chair of the $115 million
Campaign for Drake.
Before accepting the volunteer post, Levitt, a graduate of Ohio State
University, consulted with each of her four children. Their advice, she
said later, was unanimous: "Go for it!"
And so she did.
Under Levitt's leadership, the campaign exceeded its
goal, generating $130 million for the University in 1994 and making her
the first woman in America to chair a successful campaign of $100
million or more for a coeducational college or university.
She reprised that role a few years later by serving as national chair of Campaign Drake,
which raised $190 million for the University in 2002 and gained her the
distinction of being the first person to chair two consecutive
campaigns of $100 million or more in the same decade for a U.S. college
or university.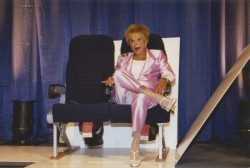 Maddie Levitt makes herself comfortable in "The Maddie Levitt Endowed Chair of Fundraising."
During the two campaigns, she contributed nearly $10
million of her own money and traveled 550,000 miles to meet with Drake
alumni and friends across the country. In recognition of her remarkable
role in the success of Drake's campaigns, the University presented her
with a set of airplane seats — "The Maddie Levitt Endowed Chair of
Fundraising."
Drake also named the lovingly restored reception hall in
Old Main the Madelyn Levitt Hall of Honor, proclaimed May 31 as Maddie
Levitt Day and designated the wide sidewalk near Old Main where Levitt
often parked her Volkswagen Beetle as Maddie Levitt Lane.
After the campaigns concluded, Levitt continued to serve Drake as special assistant to the president for development.


On the road with Maddie
Diane Caldbeck, associate vice president for alumni and development,
traveled extensively with Levitt for more than 15 years. "She was a
tremendous traveling companion," Caldbeck said. "She'd bring food to
share on the plane. She loved to shop when we had some spare time, but
she preferred discount stores to Neiman Marcus. She was
extremely frugal, always leaving room in her suitcase so she could
'liberate' bars of soap, little bottles of shampoo and even toilet
paper from our hotels."
Levitt's motto, even in the face of delayed flights and lost luggage,
was "There's no fun like work" — a favorite saying of her father's
that she displayed in her Old Main office.
"There's a lot of truth in that saying," Caldbeck said, "but I'd say that there's no fun like working with Maddie."
Hammering home the joy of giving
Caldbeck's daughter, Kelly, said she decided to attend Drake because of
a meaningful experience she had at age 15 when her mother urged her to
attend the ground breaking ceremony for the renovation of the
auditorium in Old Main in 1991.
"As a teenager, you can only imagine how much I wanted to be at this
event," Kelly Caldbeck recalled.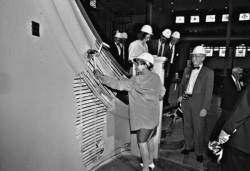 Maddie Levitt takes aim at the plaster wall during the "groundbreaking" ceremony.
Kelly Caldbeck figured that she could go home after Levitt put on a hard hat, took a hammer, hit
a wall and got some pictures taken. Instead, Levitt shifted the focus to someone else.
"She called me out of the crowd," Kelly Caldbeck said, "introduced me as the future of Drake
University, made other beautiful and funny comments about her passion
for Drake, gave me a hammer and invited me to join her in transforming
the outdated Old Main Auditorium. I remember being surprised by how
much I enjoyed the attention and the experience. And it was really fun
to hit that wall with a hammer!"
Kelly Caldbeck, who went on to enroll at Drake and earn a Doctor of Pharmacy in
2001, shared that life-changing experience during a dinner last fall for the President's Circle, Drake's organization for top donors. "I realized
later," said Kelly Caldbeck, an associate member, "that I witnessed true generosity — the ability of a
passionate spirit to inspire, the dramatic impact of an unscripted
moment, the appreciation of saving an old space and the love of a
place, of its people and of its potential."
Reaching out to students
Levitt, a member of Drake's governing board since 1987, never passed up
an opportunity to interact with students. Just five weeks before her
death, she was a guest speaker in Ronda Menke's Publicity class. She
shared her insights from her wealth of experience as a fundraiser and a
public relations professional at Mercy Medical Center and United Way of
Central Iowa.
When asked by a student what her best piece of advice would be, Levitt
answered, "Be true to yourself. There are no shortcuts to finding real
success in life, and you must be genuine and without fear."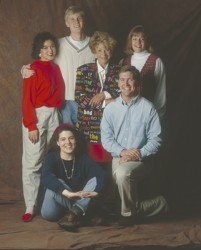 Maddie Levitt was happiest when surrounded by students.
"It was fascinating to have Maddie share her many experiences with us,
especially as we are preparing to leave Drake for the 'real world,'"
said Charley Magrew, a senior public relations major from St. Louis
Park, Minn.
"That last thing she said to us was that if we ever wanted to sit and
talk about her past or our future, she would love to have us join her
at her table at the Drake Diner. It means a lot when such an
accomplished member of the Board of Trustees goes out of her way to
listen to the students."
"She loved our students," President Maxwell said, "and she was always
at her happiest when she was with them — talking with a student in her
office, having lunch with a group of them, speaking to a class.
"When Maddie talked to people about supporting Drake, she didn't sound
like a marketing brochure or a case statement — it came straight from
her heart, it was real, and everyone knew it. Her role in the life of
Drake University was unique — when I describe what she's done for
Drake to my fellow college and university presidents around the
country, they think I'm making it up. It was incredible in the literal
sense of the word."


Defying stereotypes at every turn
Drake alumna Linda Hungerford, who worked closely with Levitt as an
administrative assistant in the president's office, found that she
defied all the negative stereotypes about children from privileged backgrounds.
"On meeting you she will say, 'My friends call me Maddie,' and she'll
soon be calling you her pet name, 'lover,' regardless of your gender,"
Hungerford wrote in a profile of Levitt.
"One trait that made Maddie special was that she treated everyone the
same, always with respect but always expecting the same in return,"
said Jim Hubbell, chair of Drake's Board of Trustees and a lifelong
friend of Levitt. "She was a person who inspired trust and confidence
in others as she sent them out to face their challenges. She once sent
me out in front of a crowd of several hundred people to sing a duet
with Bob Rice, then Polk County Sheriff. I had trust in her and
confidence in myself, but absolutely no talent."



Serving the community at large
In addition to her service to Drake, Levitt devoted herself to many
other community causes — serving on the boards of United Way of
Central Iowa and United Way of America; Boys and Girls Clubs of Central
Iowa, Mercy Hospital Foundation, the Des Moines Art Center, the Des
Moines Botanical Center, the Blank Park Zoo and the National Network
for Women in Philanthropy. She also chaired fundraising events such as
the Planned Parenthood of Iowa Book Sale, a project she initiated in
1961 that has grown to be that organization's major fundraiser.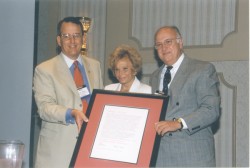 Maddie Levitt accepts the Ernest T. Stewart Award for Alumni Volunteer Involvement.
It's no wonder she was a magnet for awards at the local and national levels. Her many awards include:

The Outstanding Philanthropist Award from the National Society of Fund Raising Executives
The Ernest T. Stewart Award for Alumni Volunteer Involvement from the Council for Advancement and Support of Education
The Iowa Star Award from the Des Moines Register
The Woodrow Wilson Award for Public Service from the Woodrow Wilson
International Center for Scholars of the Smithsonian Institution
The Distinguished Service Award and an honorary Doctor of Humane Letters from Drake University
Drake is incredibly fortunate that Maddie Levitt brought her gifts to the University 20 years ago, Hubbell said.
"Her important gift, and the one most valued by her colleagues, was
herself," he concluded. "She was positive, confident, respectful, challenging, helpful,
and curious every single day. She was the gift that Drake needed, and
she gave of herself without limit, from start to finish."