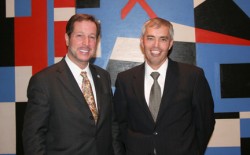 President David Maxwell welcomes Larry D. Zimpleman at evening reception.
Surrounded by a group of college students, alumnus Larry D. Zimpleman, president and COO of The Principal Financial Group, was more focused on the future of business for students than the lecture he was scheduled to present that night.
"You all have a great opportunity," Zimpleman said. "It's a huge world out there."
As part of his Nov. 1 visit to campus for the 21st annual Financial Executives International – Drake School of Accounting Lecture, Zimpleman conversed with students from Drake, Simpson College, Iowa State University and Grandview College about his experiences as well as careers and opportunities for students.
Zimpleman encouraged students to ask questions and be good learners. He also spoke about Principal's growth and the evolving nature of international business as other countries such as China are growing.
In his lecture, Zimpleman explored trends in retirement and financial services with an emphasis on enterprise risk management. He described "personal responsibility" as the future for retirement planning, which means that individuals are going to be assuming a greater role and assuming greater risk in planning for their retirement.
He stressed that Social Security benefits are likely to suffer cutbacks, which means the government will be unable to fund at the current benefit levels. Also, employers are moving away from defined benefit plans such as the 401K plan, which means the investment risk is on the employee not the employer. Larry encouraged employees to start saving for retirement early and use 10 percent of income as a benchmark.
He also discussed the skyrocketing cost of health care for employers that are facing financial constraints that limit their ability to cover costs. Zimpleman noted that 70 percent of health care costs are "lifestyle related," meaning avoidable, such as smoking, exercise, drinking, etc. This trend has led employers to develop wellness programs offering lower premiums if employees undergo periodic health screenings, which also ties into the employees' personal responsibility to be aware of their bad health habits.
Zimpleman concluded his lecture with an emphasis on risk management for businesses. Among the top external risks for businesses are: legal liability, regulation, financial risk and competition. Non-financial risks include human resource risks such as recruiting and retaining staff.