CONTACT: Lisa Lacher, 515-271-3119, lisa.lacher@drake.edu
National Adoption Month will culminate by uniting dozens of children with new families at the seventh annual Adoption Saturday, to be held from 8:30 a.m. to noon Saturday, Nov. 17, at the Polk County Courthouse, 500 Mulberry St.
Drake University Law School's Joan and Lyle Middleton Center for Children's Rights is teaming up with the Polk County Model Court and Iowa KidsNet to present the event, which is free and open to the public. Adoption Saturday is part of a nationwide effort to finalize adoptions of children from foster care during National Adoption Month. To date, more than 12,000 children have found permanent families through National Adoption Day.
"Adoption Saturday is a culmination of months of work by the adoptive parents, including home studies and classes," said Jerry Foxhoven, director of the Joan and Lyle Middleton Center for Children's Rights and assistant professor at Drake. "It is a celebration that the details have been completed and the joy is ready to begin."
Organizers expect some 40 children will be adopted at this year's event in Des Moines. Last year, 41 children were successfully adopted and nearly 1,000 people attended.
Again this year an informational fair will take place on the first floor of the courthouse, featuring professionals providing information about local and international adoption agencies and the need for foster parents. The second floor of the courthouse will host private adoption proceedings.
A half-hour public program will start at 10:30 a.m. Speakers will include Associate Juvenile Judge Constance Cohen, a Drake Law School graduate who started Adoption Saturday in Des Moines; Chief Judge Arthur E. Gamble and former foster child Gabe Meintz.
Local businesses have donated refreshments, and University Photo will be on hand to take photographs of the new families. Other donations include gifts for participants — teddy bears for the adopted children, beanie babies for the siblings and roses for the mothers.
Adoption Saturday is made by possible by approximately 40 volunteers, including judges and other courthouse personnel, members of the Polk County Sheriff's Department and law students from Drake and the University of Iowa and undergraduates from Simpson College.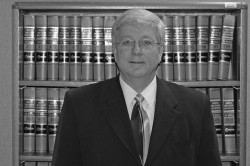 Jerry Foxhoven
The Joan and Lyle Middleton Center for Children's Rights was established at the Drake Legal Clinic in 2001 with a $1 million gift from Drake alumni Joan and Lyle Middleton. The Middleton Center advances children's rights through the legal process, training programs, public information and public policy formulation. Drake law students actively participate in the interdisciplinary programs.
For more information about Adoption Saturday, contact Erin Miller at the Middleton Center for Children's Rights at 515-271-3857.
National Adoption Day has made the dreams of thousands of children come true by working with courts, judges, attorneys, adoption professionals, child welfare agencies and advocates to finalize adoptions and find permanent, loving homes for children in foster care.
National Adoption Day is celebrated every year on the Saturday before Thanksgiving. For the first time in 2006, National Adoption Day was celebrated in all 50 states, the District of Columbia and Puerto Rico. In total, more than 250 events were held throughout the country to finalize the adoptions of more than 3,300 children in foster care, and to celebrate all families who adopt.
For more information about the Middleton Center, visit the Web site.