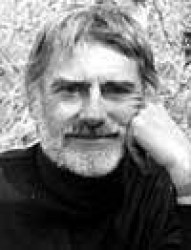 Gary Gildner
Prize-winning author and poet Gary Gildner will return to Drake University after 16 years as part of the Drake Writers and Critics series on Tuesday, Nov. 13. Gildner, professor emeritus of English, will read and discuss his new book of poems titled "Cleaning a Rainbow" at 8 p.m. in the Cowles Library Reading Room, 2725 University Ave. The event is free and open to the public.
Gildner, who taught at Drake from 1966-93, has published 20 works of poetry, fiction and nonfiction, including "Blue Like the Heavens: New & Selected Poems," "A Week in South Dakota" and "The Second Bridge."
He is also well known for "Letters from Vicksburg," "Clackamas: Poems" and "The Warsaw Sparks," which is based on his experiences coaching the city's baseball team while serving as a Fulbright Lecturer at Poland's University of Warsaw. "The Warsaw Sparks" was reissued by the University of Nebraska Press and has been adopted in the classroom.
His book, "The Bunker in the Parsley Fields" was awarded the 1996 Iowa Poetry Prize, and "My Grandfather's Book" was named by ForeWord Magazine a Top Ten University Press Book of the Year. Gildner is also the recipient of a Pushcart Prize, the Robert Frost Fellowship, the National Magazine Award for Fiction, the William Carlos Williams and Theodore Roethke poetry awards.
Gildner was also a Fulbright Lecturer in the former Czechoslovakia, and has also toured in Iowa. He will visit Drake as part of a fall tour of more than 20 colleges. He received his bachelor's and master's degrees from Michigan State University, where the MSU Library collects his papers. He is currently a writer in residence at Randolph College in Lynchburg, Va., and resides in the Clearwater Mountains in Idaho.
For more information, contact Jennifer Perrine at 515-271-4161 or jennifer.perrine@drake.edu.