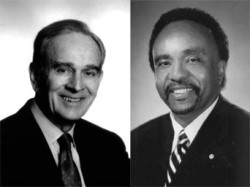 James Autry and Clifton Taulbert
Local author James Autry and Pulitzer-Prize nominee Clifton Taulbert will headline the fifth annual Community in Diversity Lecture at Drake University, Tuesday, Nov. 13. The two men — one white (Autry) and one black (Taulbert) — have written books about their experiences growing up in Mississippi in the '50s and '60s, respectively. Although they experienced racism from opposite perspectives, Autry and Taulbert found in one another's work that their stories were more similar than dissimilar. From this recognition, they will explore their common spirit and friendship in an evening of storytelling.



The free, public lecture, "Southern Stories: Two Voices, One Vision," will start at 7:30 p.m., in Sheslow Auditorium in Old Main, 2507 University Ave. A reception and book signing in Levitt Hall in Old Main will follow the lecture. The lecture series was created to explore diversity at Drake and in the Des Moines community; this year's theme centers on how diverse people connect through storytelling. Drake is hosting several additional events to reinforce the speakers' message.
"We're excited for Jim Autry and Clifton Taulbert to share the stories of who they are with students and the community," said Angela Renkoski, assistant professor of journalism and chair of the School of Journalism and Mass Communication Diversity Committee. "We want students to get involved in the diversity activities and experience for themselves that the more we share our different stories, the more we realize how we are the same."
Autry, 74, has written two books of poetry about his childhood, "Nights Under a Tin Roof" and "Life After Mississippi." Taulbert, 62, recounted his childhood in "Once Upon a Time When We Were Colored." The two met a decade ago in New York City and discovered each other's poetry and memoirs. They made a commitment, Autry said, "to use our words and lives to demonstrate to young people that we need not be trapped by the past and that brotherhood is possible." Autry and Taulbert have appeared together at the Natchez Literary Festival in Natchez, Mississippi.
Autry is a renowned author of nine books and a former Meredith Corp. executive. The Des Moines resident received an honorary Doctor of Humane Letters degree from Drake last May. His collection of essays and poetry, "Love and Profit: The Art of Caring Leadership," won the prestigious Johnson Smith and Kinsley Award in 1992.
Taulbert, a resident of Tulsa, Okla., is a Pulitzer-prize nominee and the president and founder of the Building Community Institute. He is the author of many books, including the internationally acclaimed, "Eight Habits of the Heart," "The Last Train North" and "Watching Our Crops Come In." The movie, "Once Upon a Time When We Were Colored," based on his book, will be shown in room 101 in Meredith Hall on Drake campus at 6:30 p.m., Wednesday, Nov. 7.
Two other student diversity events are set for November. They are:

• Nov. 5 — Student art exhibit at Mars Cafe, 2318 University Ave., with stories told through artwork, video and audio. The pieces will be on display through Nov. 30.

• Nov. 12 — Open Mic Night for student storytelling and poetry at 8 p.m. at Cool Beans on the upper level of Hubbell Dining Hall, 1315 30th St.
As part of Drake's celebration of diversity, Drake faculty, students and the Diversity Committee created a video to celebrate the diversity of students' lives, communities and campus. To hear students talk about diversity, view "What's Your Story" on YouTube.com.
For more information on Drake Celebrates Diversity, visit the Web site.
For more information on James Autry, visit the Web site. Additional information about Clifton Taulbert is available online.