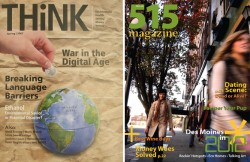 Drake magazines win 2007 Pacemaker Award
Drake University student magazines 515 and THiNK won the Associated Collegiate Press' 2007 Pacemaker award for magazine excellence on Oct. 27, at the 2007 National College Media Convention in Washington, D.C. These School of Journalism and Mass Communication publications were two out of 15 finalists selected for the Pacemaker award for overall magazine excellence, and no other school had two finalists or two winners.
In addition, three Drake students won individual awards for magazine design.
515, an annual Drake magazine capstone project for magazine seniors about the Des Moines area, and THiNK, a new magazine produced by a joint news-Internet and magazine capstone class, won 2007 Pacemaker awards. Both magazines were published with support from Meredith Corp.
"We are just thrilled," said Kathleen Richardson, director of the School. "The Drake magazine program has a long tradition of excellence, and the addition of the news magazine, ThiNK, just adds depth to the curriculum."
515, which also won the Pacemaker award in 2000 and 2004, was directed by adjunct instructor Lori Blachford, and THiNK was co-taught by Jill Van Wyke, assistant professor of news-Internet and Patricia Prijatel, former director of the School of Journalism and Mass Communication and the E.T. Meredith distinguished professor of journalism.
"It's very exciting to receive this kind of national recognition, especially knowing how hard the students worked," said Blachford. "We used to take two semesters to produce our capstone magazine, now we've condensed that work into one semester. The tighter schedule means more pressure to make quick, efficient decisions and the students handled it so well."
In addition to the awards for overall excellence, three students won individual awards for magazine design. Lauren Christie, a 2007 magazine graduate, won first place for THiNK magazine, and Leah Marr, also a 2007 magazine graduate, won second place for 515 magazine. Laura Kudia, a junior magazine major, won honorable mention for Drake Magazine, the biannual student-run magazine, which also won a Pacemaker award in 1993 and 2002.
"I'm especially proud that THiNK won for its inaugural issue," said Van Wyke. "All the credit goes to the superb staff. Even if the magazine hadn't won any awards, the students could be proud of the excellent journalism they did. The Pacemaker affirms the superb quality of our students and of our School."
For more information on ACP or to view the awards, visit the Web site. Information about the magazine program at Drake is available online.