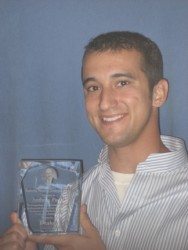 Anthony Pudlo
The Drake University College of Pharmacy and Health Sciences (CPHS) recently named Anthony Pudlo, PH'07, as the first recipient of the Karbeling Memorial Leadership Award for his leadership and outstanding contributions to Drake and the pharmacy practice.
"To be chosen among my classmates, who have numerous achievements of their own, and to be given an award named after Jerry Karbeling is still a shock to me," said Pudlo. "As I move beyond my days at Drake and begin my career in pharmacy, I take forward the honor from this award and a continued sense of pride in my education from Drake and experiences in the state of Iowa."
Pudlo is currently in a one-year residency program working in community practice through the University of North Carolina at Chapel Hill with Kerr Drug, a regional chain pharmacy. Through his residency experience, Pudlo hopes to gain advanced clinical training in this field.
"My clinical role at Kerr Drug allows me to work in our Health Care Center conducting health screenings and patient education sessions for various conditions such as diabetes, high blood pressure and high cholesterol," Pudlo said. "I also have teaching opportunities through the university with formal lectures and informal laboratory discussions. It will be a valuable one-year experience to help me transition into the role of new practitioner."
This annual award is given to recognize pharmacy students who have shown leadership in professional education, association work, community service and pharmacy practice and in honor of outstanding alumnus Jerry Karbeling, PH'74, who died in 2005. The class of 1974 established the Karbeling Memorial Leadership Fund which supports the annual award for students who demonstrate Karbeling's values and actions including professional involvement, commitment to practice and political advocacy.
"Jerry was very supportive and enthusiastic to have me serve on the Iowa Pharmacy Association's Board of Trustees as a first-year pharmacy student," Pudlo said. "He further encouraged me to partake in the Iowa Pharmacists Association's Student Leadership Conference to learn more about myself, the profession and how I can become an agent of change."
Karbeling was the owner of Big Creek Pharmacy in Polk City, Iowa, and senior vice president for public affairs and corporate development for the Iowa Pharmacists Association. He was a member of Kappa Psi, was a professional leader, community advocate and strong supporter of Drake's pharmacy program.
Candidates for the Karbeling Leadership Award are P4 full-time Doctor of Pharmacy students enrolled in the College of Pharmacy and Health Sciences at Drake, and are required to have a grade point average of 2.75 on the 4.0 scale. Students can self-nominate or faculty, staff and students in CPHS may nominate a student for the award. Applicants are evaluated on political advocacy, professional organization leadership, community service and personal leadership, and must submit an application form, curriculum vitae, a personal essay and two letters of recommendation from non-CPHS references.
The Karbeling Leadership Fund will also sponsor the Karbeling lecture as an annual event dedicated to promoting the pharmacy profession as vital to the health care system and a professional development program on political advocacy for pharmacists and student pharmacists. If you wish to contribute to the Karbeling fund, contact the College of Pharmacy and Health Sciences at 515-271-1814 or laura.sauser@drake.edu.