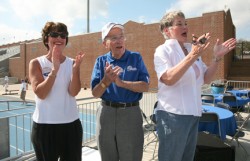 Flanked by his daughters, Paul F. Morrison claps and cheers at the conclusion of the Drake fight song, performed by the Marching Band at Saturday's Homecoming picnic.
Paul F. Morrison, who watched Jesse Owens compete in the Drake relays in 1935, witnessed Heisman Trophy candidate Johnny Bright get taken out by a brutal, racist hit in 1951, and last year traveled from Florida to Alaska to take in a football game and then a basketball game (along with a dog sled ride), was honored during Homecoming activities this past weekend.
Morrison, 90, a 1939 Drake journalism graduate, has been director of the Drake news bureau, sports information director and athletics business manager. Although he formally retired in 1986, he has been a full-time volunteer for the athletic department since the day after he retired.
Each day, he walks almost a mile to his office at Drake, and he logs at least 40 hours a week taking care of what he calls the "little piddlies" — writing letters to Drake alumni, delivering mail around campus, proofreading media guides and newsletters and keeping records of Drake athletic achievements.
Morrison, fondly known as "Mr. Drake," was honored at dinner Friday, Oct. 5, along with members of Drake's 1957 Sun Bowl team. He received a blue blazer identical to the one Drake presented to Masters winner Zach Johnson, when he visited campus a few months ago.
University officials also announced the establishment of the Paul F. Morrison Legacy Fellowship. This endowed fund will support a staff position to assist Morrison in his work as Drake's athletic historian and will continue this important legacy when he truly retires — although he has no plans to do that anytime soon.
Morrison, who is a member of the College Sports Information Directors Hall of Fame, often says "You make history every day and you don't always record it — and that is unfortunate."
Morrison was also recognized at a picnic preceding Drake's homecoming game against Butler on Saturday, Oct. 6. View a video slideshow of 2007 Homecoming and celebration for Paul Morrison here.
He was presented with a cake decorated with the words "Happy Birthday, Mr. Drake," and a blue banner that said Happy 90th Birthday, Mr. Drake. He also received a framed etching of numerous highlights in Drake's athletic history and a framed feature story about him published by the Des Moines Register last April.
"Thanks to all of you," Morrison said at the conclusion of the presentation. "I'm the luckiest guy in the world."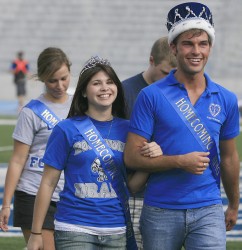 Alice Hoffmeister and Jonathan Brendemuehl at the Homecoming game.
Morrison and the members of the Sun Bowl team were recognized at halftime, along with Drake's Homecoming King and Queen, Jonathan Brendemuehl and Alice Hoffmeister, as well as other members of the Homecoming Court.
Drake defeated Butler 37-19 in the 632nd Drake football game that Morrison has attended.
Morrison is known across campus, throughout the community and among alumni worldwide as the guy who holds countless athletic statistics in his head, corresponds faithfully with Drake letterwinners, works at every athletic event and even delivers the mail around campus, all because he loves Drake University and its people.
His parents met at Drake and graduated in 1906. The gown that his mother wore at commencement has become a family heirloom worn at 17 graduation ceremonies at Drake and a few other universities. Morrison's granddaughter, Abby Dierks, a sophomore at Drake, plans to wear it at her graduation in 2010.
Morrison still travels with Drake's football and basketball teams. Athletic Director Sandy Hatfield Clubb told alumni and friends gathered at the pre-game picnic that last November, Morrison covered 6,492 miles in five days. He attended his 626th Drake football game in Jacksonville, Fla. and cheered the Bulldogs as they won 47-28. He returned to Des Moines, and then accompanied the Drake men's basketball team to Fairbanks, Alaska, for the Top of the World Classic. In addition to watching the game, he joined the Drake players on a dogsled run.
"He has a love of adventure in his heart," Clubb added, "and Drake is always close to his heart."