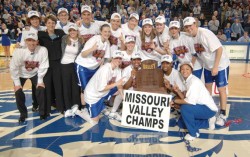 For the second consecutive year, the Drake women's basketball team has been tabbed as the preseason favorite to capture the 2008 Missouri Valley Conference crown.
In the Valley's annual poll of coaches, sports information directors and media members, the Blue and White garnered 24 of a total of 39 first-place votes to accumulate 348 points. Illinois State, Evansville, Southern Illinois and Creighton collected the remaining first-place selections with the Redbirds receiving 12 votes and the Purple Aces, Salukis and Bluejays garnering one vote apiece.
"We're honored and humbled by the fact that our peers had that much respect for our program," fifth-year head coach Amy Stephens commented. "At the same time one of the lessons we learned last season was it isn't where you are at Nov. 1 but where you're at in March and that is where our focus will be day-to-day excellence and improving each and every day so we are in a position to compete at the end of the season."
The Bulldogs return 11 players this season, including all five starters from a year ago when Drake earned its 10th NCAA Tournament bid in school history.
Close behind in the poll, and coming in second was Illinois State with 342 points. The Bulldogs and Redbirds were followed in the projections by Indiana State (289 points), Evansville (288 points), Southern Illinois (233 points), Creighton (223 points), Missouri State (136 points), Northern Iowa (113 points), Wichita State (95 points) and Bradley (78 points).
Five different student-athletes from five different member institutions highlight this season's preseason team.
Earning first team All-MVC preseason accolades for the first time was Drake senior Brandy Dahir (Carrollton, Texas/Creekview), who averaged 17.1 points and 5.5 rebounds last season en route to first team all-conference honors.
Joining Dahir as preseason All-MVC selections were Kristi Cirone of Illinois State, Tahnee Balerio of Missouri State, Rebekah Parker of Evansville and Laura Rudolphi from Indiana State.
"It is a great compliment to how hard Brandy (Dahir) has worked the last year and a half to really improve and position herself to be one of the best players in the league," Stephens said. "At the same time Brandy would much rather see our team be successful than rake in individual accolades."
Dahir and the Bulldogs will open their 34th season of intercollegiate competition versus Green Bay on Nov. 9 at 7:05 p.m. in the Knapp Center. Drake will have its lone exhibition game for the campaign as the Blue and White will host Quincy on Nov. 1. Game time with the Hawks is slated for 7:05 p.m.
2007-08 Missouri Valley Conference Women's Basketball Preseason Poll

1) Drake (24) – 348 points

2) Illinois State (12) – 342 points

3) Indiana State – 289 points

4) Evansville (1) – 288 points

5) Southern Illinois (1) – 233 points

6) Creighton (1) – 223 points

7) Missouri State – 136 points

8) Northern Iowa – 113 points

9) Wichita State – 95 points

10) Bradley – 78 points
2007-08 Missouri Valley Conference Women's Basketball Preseason Team

Tahnee Balerio, Sr., G, Missouri State

Kristi Cirone, Jr., G, Illinois State

Brandy Dahir, Sr., F, Drake

Rebekah Parker, Sr., G, Evansville

Laura Rudolphi, Sr., C, Carlyle, Ill.