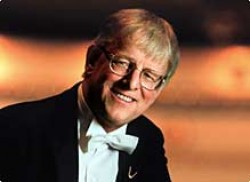 Robert Sund
Two prominent conductors, Robert Sund of Sweden, and Sandra Snow of Michigan State University, will conduct all four Drake choral ensembles and the Des Moines Vocal Arts Ensemble in concert at "The Earth Adorned: A Scandinavian Sampler" on Sunday, Nov. 18. The concert, which is free and open to the public, will start at 3 p.m., in Sheslow Auditorium in Old Main, 2507 University Ave.
The program will feature more than 200 singers under the direction of Sund, Snow, Drake alumna Carol Stewart and Drake's conductors Aimee Beckmann-Collier and Barbara Sletto.
Sund, conductor of the famed Orphei Dränger men's chorus, is one of Sweden's most well-known musicians and is in great demand as a guest conductor and clinician throughout Europe, Asia and the United States.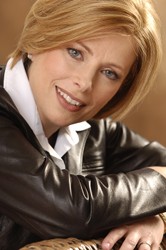 Sandra Snow
Snow is on the choral faculty at Michigan State University, where she conducts the premiere women's chorus and teaches conducting.
During their visits, both musicians will also present to Drake music students. Snow will talk to the student chapter of the American Choral Directors Association and Sund will give a lecture to an upper-level music theory class.
In addition to guests Sund and Snow, Gunilla Luboff, president of Walton Music Company, which helps make Scandinavian music available to American choirs and conductors, will visit Drake. Luboff is a native of Sweden and widow of the well-known American conductor and arranger, Norman Luboff. She will speak to several community groups and deliver a pre-concert talk at 2:15 p.m. on Nov. 18.
This concert is a special celebration of the work of Carol Stewart, who will conclude her conducting career this year. During her career, she helped create outstanding music programs in Des Moines at Lincoln High School, Plymouth Congregational Church and Grand View College, as well as founded and served as the artistic director of the Alliance for Arts and Understanding.
"Of all of our music alumnae, Carol Stewart certainly ranks among those who have made the greatest difference to the greatest number," said Beckmann-Collier. "She is a remarkable person and her vision and unflagging dedication to the mission of the Alliance transformed thousands of lives. She knows more about the international choral scene than almost anybody in the U.S., and is a fine musician."
Major funding for this program is provided by The Alliance for Arts and Understanding Donor Advised Fund of the Greater Des Moines Community Foundation, with additional funding provided by Bravo and the Drake University choral program.
For more information about the Drake University Department of Music, visit the Web site.