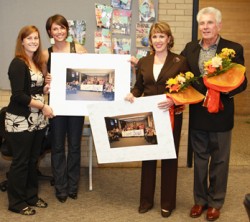 Students Alissa Cunningham and Laurel Herold thank Liz Newell and Jack Kragie oh behalf of the students at media lab ribbon-cutting ceremony.
Drake University's School of Journalism and Mass Communication (SJMC) offers more than just the journalism basics — writing, editing and reporting. On Oct. 5, SJMC unveiled the Kragie Newell Interactive Media Lab that will rocket students right into the new multimedia world.
"It is a brave new media world out there," said Kathleen Richardson, director of the School of Journalism and Mass Communication. "This lab will help Drake students become the pioneers of that world."
The lab was made possible by a gift of $150,000 from Liz Newell, JO'69, and Jack Kragie, AS'65, former owners of Integer Group in Des Moines, and a $10,000 gift from Meredith Corp.
"We are very appreciative of this ceremony," Kragie said. "This is a natural gift for us to make."
On behalf of the students, Alissa Cunningham, junior news/internet major and journalism senator, and Laurel Herold, senior advertising major and member of the Ad Club, thanked Kragie and Newell for the generous gift.
"We are all very appreciative of this very generous gift," said Herold. "The foundation and dedication of Jack Kragie and Liz Newell have ensured a bright future for Drake's School of Journalism and Mass Communication."
"What we have now is beyond anything I could have imagined," said Cunningham. "With programs for layout, Web design and video projects, this lab has everything students need and more."
Construction crews have transformed the Reading Room, student offices and Room 104 in Meredith Hall into the new Kragie Newell Interactive Media Lab and Meredith Teaching Center, which also will be used to offer continuing education programs for media professionals. The lab has workstations with software including Photoshop, Illustrator, InDesign, Flash, Dreamweaver, Fireworks, Quicktime Pro, DVD Studio Pro and Soundtrack.
The space gives students with the opportunity to work on design and Web design, and video and news editing projects on 16 new flat-screen iMacs. Three workspaces will be designated for Podcast, operator and EZ News workstations, and students can work on presentations in the lab equipped with a conference table, projection screen, printers and speakers.
"We pride our school in the opportunities we provide for students to be successful," Richardson said. "This lab will give the opportunity for students to communicate across different media platforms."