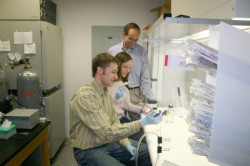 Students work on research in lab with Ronald Torry, professor of pharmacology.
Health Sciences major exceeds expected enrollment for 2007-08
A new Health Sciences major in Drake's College of Pharmacy and Health Sciences is proving to be more popular than expected with 50 students enrolled in the 2007-08 academic year.
"The health sciences major provides Drake students with the opportunity to explore different careers within the health care system and to obtain 'real life' experience in that arena as part of their major," said Raylene Rospond, dean of the College of Pharmacy and Health Sciences. "We are thrilled that this program is meeting students' interests and look forward to continued growth in our enrollment in future years."
The class profile includes 31 females and 18 males from Iowa, Illinois, Nebraska, Wisconsin, Missouri and New Hampshire — and 14 students are athletes at Drake.
These students are interested in occupations as physical therapists, physician's assistants, physicians, researchers, health care insurance or administration. All students begin the major with biology, chemistry, First Year Seminar and Issues in Health Sciences I classes.
"The first Issues in Health Sciences course focuses on the big-picture view of how all of the health care professions interact within the health care industry," said Renae Chesnut, associate professor of pharmacy. "The second Issues in Health Sciences course will follow-up on that foundation with a personal exploration of students' individual abilities, interests and strengths, to determine which track — health services management, pharmaceutical sciences, or clinical and applied sciences — is appropriate for them to pursue as they begin their career."
The college has begun networking with potential internship and post-graduate employers who have been excited to interact with health sciences majors about internships, capstones, career fairs and more, Chesnut added.