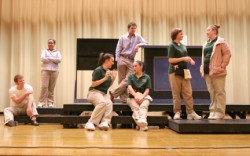 The touring cast of Adam Sandroni, Brittany Belt, Maureen Fitzgerald, Dustin Thomas,Becky Gebhart, Marnie Strate and Whitney Rhodes.
Students hit the road to perform 'Nickel and Dimed'
Some Des Moines high school students got their first taste of live theater last month when Drake students performed the second act of "Nickel and Dimed" at five city high schools. The tour was made possible by an $8,000 grant from Prairie Meadows Race Track and Casino to Friends of Drake Arts.
Joan Holden's play, based on the best-selling book by Barbara Ehrenreich, chronicles the experience of an undercover journalist as she moves across the country and attempts to discover whether Americans can get by on minimum wage. Living the life of a housekeeper, waitress and discount-chain employee, the journalist reveals some unsettling truths about the lives of American workers.
Deena Conley, assistant professor of theatre arts, directed Drake's production of "Nickel and Dimed" last fall and won a directing award from American College Theater Festival for the production.
"It's been a terrific experience for the actors to have the experience of going on tour," Conley said. "Plus, we're providing some high school students with the first theatre experience they've ever had. We're pleased to get them acquainted with what Drake Theatre has to offer."
Five members of the original cast returned for the tour, and Conley recast two parts that were played by seniors last year. The lead role of Barbara was played this fall by Whitney Rhodes, a senior acting major from Lincoln, Neb. In addition to acting, the Drake students transported and assembled a large portion of the original set for each high school performance.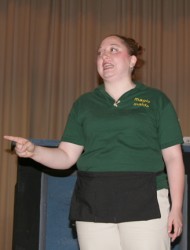 Whitney Rhodes delivers a monologue at Central Campus.
"The part is awesome; I love it," Rhodes said. "The long rehearsals and getting up at 5 or 6 in the morning to take the show on the road give me a good idea of what life after Drake is going to be."
Mark Rixner, drama producer and director at North High School, said students there were impressed with the Drake performance. "The show was very good, and technically it was excellent," he added. "We did a Q&A after the show, and it was great for our kids to have a chance to interact with the Drake students. The show hit home for many of our students who are familiar with similar living conditions. We had interesting discussions in our classes after the show. We would be happy to fit Drake performances into our schedule whenever possible."
Maureen Fitzgerald, who reprised her roles as Marge and Mrs. Wentworth, said she likes the way 'Nickel and Dimed' raises socioeconomic issues.
"Lots of high school students work in minimum-wage jobs and expect to quickly move up to better-paying jobs," added the junior theatre tech and design major from Lincoln, Neb. "But what if that doesn't happen? According to the American dream, if you work hard enough, you'll succeed. This play shows that hard work often is not enough. Sometimes the dream doesn't come true because of the circumstances that people are born into and never escape."