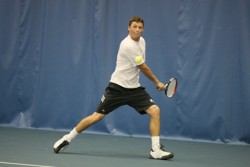 Dalibor Pavic
Drake's Dalibor Pavic advanced farther than any Bulldog tennis player in history before bowing to an ankle injury and the defending champion in the quarterfinals of last week's Intercollegiate Tennis Association (ITA) National Indoors Championships at Ohio State University in Columbus, Ohio.
Before slightly spraining an ankle, the sixth-seeded Pavic, a senior from Adelaide, Australia, led Somdev Devvarman of Virginia 2-0 in their second set of men's singles. Devvarman, the tournament's No. 1 seed, won six of the next seven points to defeat Pavic 6-4 in straight sets.
The day before, Pavic dispatched fifth-seeded Luke Shields of Boise State 4-6, 6-3, 6-3 to open the tournament. He also defeated eighth seed Conor Pollack of Texas A&M 6-3, 6-7(1), 6-1 to reach the quarterfinals.
"I walked off the court tonight knowing I can play with anyone in the country, and this provides me with momentum to be playing in the NCAA Championships in May," said Pavic, Drake's No. 2 singles player.
Pavic, ranked 94th in the nation, is expected to make a significant jump in the ITA rankings when they are released in late December to early January. He and his Bulldog teammates get their dual campaign underway Jan. 19 at the Boilermaker Invitational in West Lafayette, Ind.