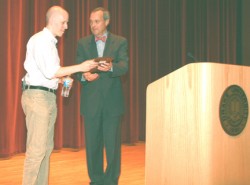 Dean Charlie Edwards presents John August the 2007 Alumni of the Year Award for SJMC.
Before Drake University alumnus and screenwriter John August stepped onto his platform on "The Challenge of Writing in a Digital Age," he was awarded the 2007 Alumni of the Year Award from the School of Journalism and Mass Communication, Thursday, Oct. 5.
Charlie Edwards, dean of the School of Journalism and Mass Communication and the College of Business and Public Administration, presented the award and praised August as a "great man."



In his "Executive in Residence" lecture, August described how writing has changed since he was a student at Drake, and he joked about technology changes — in the early '90s he worked with a 20 MB hard drive computer and a printer that could print one page per minute.
August shared his observations of the digital age and challenges journalists face, through four qualities of the new culture: authority, immediacy, permanence and response.
• Authority is expertise and reputation by writing consistently and frequently. If an expert links his or her blog to a Web site or another source, he or she is passing on authority. "It's like a friend referral." Trusting sources on the Internet for validity and accuracy is the challenge.
• Immediacy requires being able to jump in and out of a constant stream of news — and some news is only news while it is happening.
• Permanence is perhaps the most dangerous of the four qualities. "Once you hit submit, you can never get it back." During an informal class meeting with magazine students earlier that day, August also described permanence as the idea that everything a person does online will "haunt you for the rest of your life."
• Response is the fact that everything a person writes travels with them, and so do responses from other people on the Internet. "Being able to respond is dangerous — how do you know the person responding has authority?" One of the challenges for writers is stories getting "hijacked" by comments that people post, because the discussion of the story can alter perceptions of the story and change its direction.
In discussing his four observations, August challenged students with his "call to action for writing in the digital age." He told students to question authority, become experts, treat the Internet as a portfolio and have something meaningful to say. "Look at everything you write with the same degree of thoughtfulness and be willing to stand behind the things you wrote."
August spoke about a frustrating experience he faced, thanks to qualities of the digital age, when a Web site reviewed his script for "Charlie and the Chocolate Factory" in a completely false light. Although he stood by his work and tried to get the review corrected, it's still published on the Web site and will be forever connected to his name.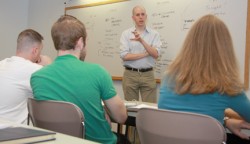 Students in a screenwriting class interview August about his experiences.
"Charlie and the Chocolate Factory" is just one of the movies that August is known for, including "Go," "Big Fish" and "Corpse Bride" that have been made. In the informal talk with students, August joked that he tries to write film scripts for movies in the "movies that get made" category. He told students that he accepts one out of every eight proposals.
"If a movie doesn't get made it is really frustrating. A lot of my job is figuring out what movies will be produced — not just what the story is but how it will make it to the screen," he added.
Marketing, he said, has a lot to do with how successful a movie is. And marketing and casting are two places where August is limited as a screenwriter. Sometimes, he said he envisions certain scenes and characters different from the director, which is another challenge for him.
Although everyday frustrations may not be the same for August and Drake students and journalists — writing is a challenge for everyone in the digital age. He made it clear that he wanted his speech to "scare" people into action.
To conclude his speech, he said, "Your challenge is to make sure you go out there and do it right — do it like your life depended on it."
For more information on John August or screenwriting, visit his Web site.