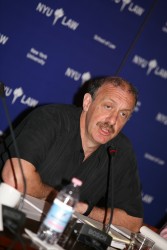 Samuel Issacharoff
CONTACT: Amy Russell, 515-271-2988, amy.russell@drake.edu;

Lisa Lacher, 515-271-3119, lisa.lacher@drake.edu
Professor Samuel Issacharoff of the New York University School of Law will give a lecture on "Democracy at War" on Thursday, Nov. 8, at Drake University Law School. The lecture, which is free and open to the public, will start at 4 p.m. in room 213 of Cartwright Hall, 27th Street and Carpenter Avenue.
In his lecture, Issacharoff will focus on the source of authority for presidential power in wartime, and will discuss cases that demonstrate common conflicts between the President's commander-in-chief powers and the role of Congress in declaring and funding wars. He will also present cases that detail timely issues such as the treatment of detained suspected terrorists.
Issacharoff is a 1983 graduate of the Yale Law School. After clerking, he spent the early part of his career as a voting rights lawyer. He then began his teaching career at the University of Texas in 1989, where he held the Joseph D. Jamail centennial chair in law. In 1999, he moved to Columbia Law School, where he was the Harold R. Medina professor of procedural jurisprudence. His 70-plus published articles appear in every leading law review, as well as in leading journals in other fields.
Issacharoff's wide-ranging research deals with issues in civil procedure (especially complex litigation and class actions), law and economics, constitutional law, particularly with regard to voting rights and electoral systems and employment law. He is one of the pioneers in the law of the political process, where his "Law of Democracy" casebook (co-authored with Stanford's Pam Karlan and NYU's Rick Pildes) and dozens of articles have helped create a vibrant new area of constitutional law.
He is also a leading figure in the field of procedure. In addition to ongoing involvement in some of the front-burner cases in this area, he serves as the reporter for the newly created Project on Aggregate Litigation of the American Law Institute.

The lecture series will continue April 11, 2008, with a lecture titled "The South African Constitution: The Recognition of Social and Economic Rights" by Justice Richard Goldstone, Justice of the Constitutional Court of South Africa from 1994-2003 and now teaching at Fordham University School of Law.
The Constitutional Law Center invites prominent national leaders, jurists and scholars to lecture and share their visions and interpretations of the Constitution on topics including religion, race, education, family and politics. The center provides programs and activities that broaden and deepen students' perspectives on the country's fundamental issues. The center's annual symposium, titled "The Invisible Constitutional Amendments," will be held Saturday, April 5, 2008.
For more information about the Constitutional Law Center, visit the Web site. For more information on the Distinguished Lecture Series, call 515-271-2988.