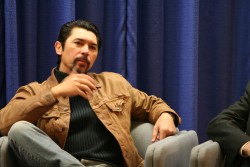 Lou Diamond Phillips
Drake students saw Lou Diamond Phillips in a new light — out of character, stage makeup and without a speaking accent, wig or costume. The star took a step away from his spotlight as the star King Arthur in "Camelot," and shared life lessons with the Drake community during a campus visit on Oct. 25.
In an "In the Actors Studio"-style discussion moderated by Deena Conley, Phillips encouraged acting students to never give up or quit.
"The event was fabulous," said Conley, assistant professor of Theatre Arts. "Lou Diamond Phillips' comments were extremely insightful. He encouraged student actors to never give up their dreams of becoming successful, working actors. Hearing that type of dialogue from a respected actor like Mr. Phillips is priceless."
"Your process starts now. The things I learned in high school and college are still things I apply today," Phillips said. "This is why you are in an environment where you can study what your craft is and pull out what works for you."
Phillips assessed the atmosphere on the stage and in the film industry, advising young actors to not set their acting in stone. He explained that flexibility is key because a scene could change due to the director, other actors, and especially the film set.
In the film industry Phillips burst on the scene in 1987's "La Bamba" as rocker Ritchie Valens. He followed this with another break-out performance in "Stand and Deliver" and received the Independent Spirit Award for Best Supporting Actor and was nominated for a Golden Globe Award for his performance. His film career has continued with "Young Guns," "Young Guns II" and "Courage Under Fire." His extensive television career includes recent appearances on the CBS Series "NUMB3RS," "The Triangle" on TNT and the Hallmark Channel's "A Trail of Hope Lost."
Away from film, Phillips is making his return to the stage as King Arthur in the Betts Broadway Series Presentation of "Camelot," which runs through Sunday, Oct. 28, at the Civic Center of Greater Des Moines. This follows his award-winning performance as the King of Siam in a stage revival of "The King and I" for which he received a Tony Award nomination, the New York Outer Critics Circle Award and a Theatre World Award. Other theater credits include "A Hatful Of Rain," "P.S. Your Cat Is Dead," "The Lady's Not For Burning," "Doctor Faustus," "Hamlet" and "Whose Life Is It Anyway?"
Before his role as King Arthur in "Camelot" in Des Moines, Phillips was in Spain to film part of Steven Soderbergh's "Guerrilla," where he plays a Bolivian alongside revolutionary leader Che Guevara, played by Benicio del Toro.
Del Toro and Robert Deniro are just a few actors that Phillips looks up to — who keep him approaching each job with passion. He joked, "How many actors does it take to screw in a light bulb? It takes one to screw in the bulb; and 99 to say 'I could have done that!'"
In some of his last words of advice, Phillips told students that success breeds success, but students have to be committed, active and not lazy. "Acting, writing and dancing are all verbs — so go do them," Phillips added. "Don't sit around and talk and think about them."