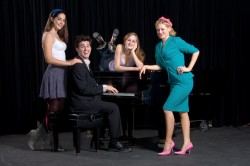 From left: Sarah Hoch, Jake Klinkhammer, Julia McKinney and Heather Herkleman star in Drake's production of "Company."
CONTACT: Tory Olson, 515-271-1834, tory.olson@drake.edu



Through the Tony Award-winning musical "Company," Drake University Theater will bring to the stage five couples and a bachelor to address the question, "In a city with so many choices, why should any New Yorker get married?" The musical, with book by George Furth and music and lyrics by Stephen Sondheim, will play from Nov. 8-11.



Set in New York City, "Company" follows Robert, a successful 35 year-old man who has remained the only single individual in his circle of close friends, which constantly puts him in the middle of the couples. Through his observations on the struggles and clichés of married life, Robert is forced to face his own fears and misconceptions associated with relationships. The lives of the couples touch upon several relationship themes, such as fear of commitment, divorce, one-night stands and sexual orientation.



Drake students designed nearly every technical aspect of the production, capturing the sights and sounds of New York through elaborate lighting, set and sound designs.



Director Karla Kash, visiting assistant professor of theatre arts, stresses the significance of New York itself in the production, stating, "The most important character in the play actually has no dialog, and that character is the city of New York itself. This is a musical about New York and, most importantly, New Yorkers. Having lived there myself, I grew to love New Yorkers and I hope to honor and serve them in this production."



Kash will discuss the musical and Drake's production during a pre-theatre dinner, sponsored by Friends of Drake Arts, at 6 p.m. Saturday, Nov. 10, in Levitt Hall in Old Main, 2507 University Ave. The performance will follow at 8 p.m. Tickets are $25 per person and include the dinner, talk and play. Reservations are required and may be made by calling 515-271-3147 or sending an e-mail to alumni.rsvp@drake.edu.



"Company" originally debuted in 1970 and was nominated for 12 Tony Awards. The show has since been updated to suit a more modern audience and gained much attention through a highly acclaimed Broadway revival in 2006 directed by John Doyle, starring Raul Esparza as Robert.



This play contains mature content and smoking, and is produced by special arrangement with Music Theatre International.



Performances will start at 8 p.m. Nov. 8, 9 and 10 and at 2 p.m. Sunday, Nov. 11, in the Performing Arts Hall of the Harmon Fine Arts Center, 25th Street and Carpenter Avenue. Admission is $6 for adults, $4 for students and senior citizens or those with a Drake ID. Tickets are available at the Drake Fine Arts Center Box Office. Reservations can be made in person or by calling 515-271-3841.