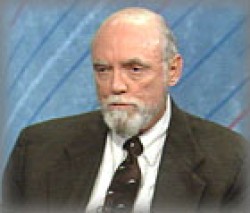 Samuel W. Lewis
CONTACT: David Skidmore, 515-271-3843, david.skidmore@drake.edu;

Lisa Lacher, 515-271-3119, lisa.lacher@drake.edu
Foreign relations expert Samuel W. Lewis will deliver a free, public lecture on "America's Role in the Middle East," at 12:30 p.m., Tuesday, Oct. 23, in Bulldog Theater in Olmsted Center, 2875 University Ave.
Lewis is known for his work in international relations, government service and academic institutions including Hamilton College, Georgetown University and Johns Hopkins University. He served as director of the Department of State's Policy Planning Staff from 1993-94 and was the first president and chief executive officer of the United States Institute of Peace in Washington, D.C.
During his career in foreign service, Lewis traveled to Afghanistan, Brazil, Israel and Washington during tours of duty. He has also held numerous positions including ambassador to Israel, senior staff member for Latin America at the National Security Council and special assistant to the deputy secretary of state, among others. He has taught at Tel Aviv University and the Hebrew University of Jerusalem in Israel, and currently serves as the senior policy adviser to the Israel Policy Forum. He is also a member of many other foreign relations, public and environmental organizations such as the Council on Foreign Relations and the Middle East Institute.
Lewis' lecture is part of a series on "America's Role in the World" sponsored by Drake's Center for Global Citizenship. The series continues on Tuesday, Oct. 30, when international relations expert Craig Cohen presents "Smart Power and Stability in Pakistan."
The lecture series will continue throughout the fall semester. For more information about the upcoming lectures, call 515-271-3119 or visit the Web site.