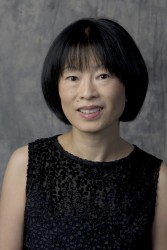 Rika Uchida
FOR IMMEDIATE RELEASE

Oct. 15, 2007
CONTACT: Rika Uchida, rika.uchida@drake.edu;

Tory Olson, 515-271-1834, tory.olson@drake.edu
UCHIDA TO PERFORM POPULAR MUSIC BY DEBUSSY AND LISZT
Rika Uchida, visiting assistant professor of piano and theory at Drake University, will perform a piano recital Monday, Oct. 22, at 8 p.m., on the Jordan Stage in Sheslow Auditorium in Old Main, 2507 University Ave.
Uchida will play popular pieces by French impressionist composer Claude Debussy, including early preludes commonly known as "Clair de Lune" and "The Girl with the Flaxen Hair," as well as later works. Uchida will demonstrate how Debussy's harmonic languages changed from his early to later works. She also will perform "Rain Tree Sketch II" by a Debussy-inspired Japanese composer, Toru Takemitsu.
The recital will conclude with contrasting pieces by Franz Liszt: "Consolation No. 3" and "Mephisto Waltz." Liszt's tender, soft and poetic side is reflected in "Consolation No. 3," while the "Mephisto Waltz," which Uchida describes as a "theatrical piece," reveals the composer's darker side.