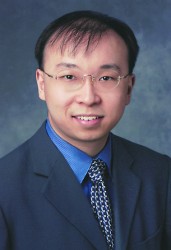 Peter Yu
CONTACT: Julie Collins, 515-229-0228, juliemcollins@yahoo.com;

Tory Olson, 515-271-1834, tory.olson@drake.edu
A conference on "Legal and Ethical Issues of New Media" will be held at 3 p.m. Friday, Oct. 19, in the courtroom of Drake University's Neal and Bea Smith Law Center, 2400 University Ave. The conference, which is free and open to the public, will explore issues raised by social networking, blogs, wikis, vlogs and citizen journalists.
Industry professionals will participate in a panel discussion moderated by Kathleen Richardson, director of Drake's School of Journalism and Mass Communication. The school's Junior National Advisory Council is sponsoring the conference, which will be followed by a reception at 5 p.m.
The panelists will be:

• Peter Yu, the Kern Family Chair in intellectual property and law, director of the Intellectual Property Law Center, Drake University Law School

• John Riha, editorial director of Special Interest Media, Meredith Corp.

• Chris Snider, assistant managing editor for digital, the Des Moines Register

• Scott Allen, senior marketing manager, Des Moines Radio Group

• Nathan Wright, founder of Lava Row, a social media consulting firm

• Mike Sansone, an independent business consultant specializing in business blog and conversational copywriting
Advance registration is required. For more information or to register, contact Julie Collins at 515-229-0228 or juliemcollins@yahoo.com.