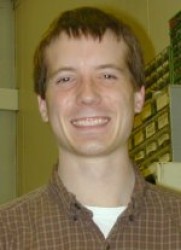 Chris Field
CONTACT: Maria Bohorquez, 515-271-2595, maria.bohorquez@drake.edu

Tory Olson, 515-271-1834, tory.olson@drake.edu
Drake alumnus Christopher R. Field will continue the fall season of the Drake University Science Colloquium Series with a discussion on proteins and how they interact with other molecules and explore systems used to measure those reactions.
DUSCI invites all Drake faculty, staff and students to the lecture from 12-12:50 p.m., Friday, Oct. 19, in room 206 in Olin Hall, 27th and Forest Avenue.
Field will present, "Towards Navigating the Forest of Interactions in a Neutrophil: Studying Enzyme-Catalyzed Reaction Kinetics Using an Acoustically Levitated Drop Reactor for In Stillo Measurements."
"Proteins are very difficult to work with because they are large, complex, and delicate structures that require specialized instrumentation for handling and analysis," Field said.
In his presentation, Field will discuss acoustic levitation, which was originally developed for handling samples in low gravity on space shuttle missions, and how it is used to study proteins. Acoustic levitation encompasses a variety of topics including "fluid handling, electrical and electronic engineering, acoustic engineering, optics, computer programming, and mathematics," Field said.
At Drake, Field was president of the Chemistry Club, which won an award for Outstanding Organization of the Year, and worked for Drake television on "DrakeWatch" as a production assistant. He received a bachelor's degree in chemistry and computer science, and plans to graduate with a doctorate in chemistry, from the University of Illinois, Urbana-Champaign.
For more information, contact Maria Bohorquez, director of DUSCI, at 515-271-2595 or dusci@drake.edu.