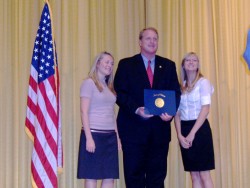 Rachel Manuel, executive director of business, and Megan Hill, executive director of outreach for 10KCI, accept award from Gov. Chet Culver.
Drake University and Iowa State students received the Governor's Volunteer Award for volunteer involvement in The 10,000 Hours Show of Central Iowa (10KCI). The award was presented by Gov. Chet Culver Oct. 5, at the Southeast Polk High School Auditorium in Runnells, Iowa, to honor the student-run organization's service.
"Volunteers are the glue that holds our communities together. They are servants of their fellow citizens, always there to lend a hand when it is needed," said Gov. Culver. "I am honored to present the Governor's Volunteer Award to these outstanding Iowans, and look forward to working with volunteers across our state as we set out to build One Iowa, with an unlimited future for everyone."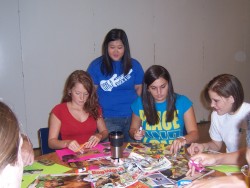 Samantha Leung, AS'04, assists Drake students assembling place mats for the Animal Rescue League during Welcome Weekend.
Last year, from the fall of 2006 through the spring of 2007, members of 10K volunteered 11,785 hours, which earned volunteers a free ticket to a JET concert in April. For students who volunteer 10 or more hours of service, receive a ticket to a free concert that April. Ben Folds, Guster, CAKE and JET are some of the past performers.
Established in 1982, the Governor's Volunteer Award program honors and recognizes volunteers for the service, commitment and time they contribute to organizations and government agencies.
The 10,000 Hours Show is among more than 600 other organizations that received awards for volunteer programs throughout Iowa. The organization, run by Drake and Iowa State students, is a partnership with United Way of Central Iowa, the Iowa Commission of Volunteer Service, the Volunteer Center of Story County, Iowa State University and Drake University.
The volunteer program is coordinated by the Iowa Commission on Volunteer Service and the Governor's Office. For more information, visit the Web site or call 515-242-4764.