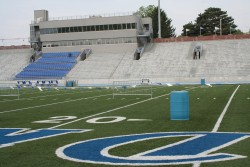 Reggie's Sleepout will be held at Drake Stadium again this year.
CONTACT: Dee Wright, dee.wright@drake.edu

Tory Olson, 515-271-1834, tory.olson@drake.edu
Drake University will open its stadium for the second annual
Reggie's Sleepout, a fundraiser for Iowa Homeless Youth Centers and an
event to raise awareness of youth homelessness in Iowa, on Friday, Nov.
2. The event will start at 7 p.m. on Friday, and conclude at 7 a.m. on
Saturday, Nov. 3, in Drake Stadium, 27th and Forest Avenue.
Participants will sleep in a box, sleeping bag or puptent to raise
money, awareness and honor the memory of Reggie Kelsey, who was found
dead in the Des Moines River several months after being aged out of the
foster care system in 2001.
"We are very appreciative of the opportunity to host 'Reggie's
Sleepout' for the second year in a row," Drake President David Maxwell
said. "Drake University has a deep sense of responsibility for the
welfare of the community in which we live and work; our commitment to
the vitality and welfare of those who live in Central Iowa is a
critical part of our definition of what it means to be Drake
University. We are very grateful to all those who are working so hard
to organize 'Reggie's Sleepout,' and to all those who will participate
in support of the homeless in Central Iowa."
The event will provide food, including pizza and chili, as well as
activities and entertainment including a box decorating contest, music
and a scavenger hunt. Top fundraising individuals and teams will win
prizes from Reggie's Store and flat screen TVs.
The Richard O. Jacobson Foundation announced it will match 50 cents
to each dollar raised up to $50,000, and American Trust Bank will
donate $7,500 to the fundraiser. Sponsors hope that 1,000 people will
register and the event will raise $150,000 this year as compared to
$60,000 in 2006 with about 600 participants.
Participants must pre-register by Saturday, Oct. 6, to receive a
free Reggie's T-shirt. Registration will be held before the event at
the Drake Fieldhouse, 2701 Forest Ave., from 4-7 p.m. on Nov. 2.
For more information or to register online, visit the Web site. To volunteer, contact the events coordinator for Iowa Homeless Youth Centers, Mary Daley at 515-249-2225 or mdaley@yss.ames.ia.us.
Sponsors for the event are:
• American Trust Bank
• Des Moines Register
• KCCI Des Moines TV 8
• Red Dot Design