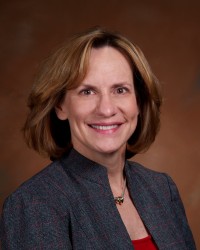 Nancy Sebring
CONTACT: Tory Olson, 515-271-1834, tory.olson@drake.edu
Nancy Sebring, superintendent of Des Moines Public Schools, will
speak at Drake University's "Let's DU Lunch" series on Wednesday, Oct.
3. The lunch, which is open to the public, will start with networking
at 11:30 a.m., followed by lunch and the program at noon at the Polk
County Convention Complex, 501 Grand Ave.
Sebring was named superintendent in July of 2006 after serving as
deputy superintendent of the fourth largest school district in Douglas
County, Colo., with 48,000 students. She received her bachelor's degree
from Iowa State University and later earned three graduate education
degrees from Drake.
The fall series will conclude on Wednesday, Nov. 7, with Marsha
Ternus, chief justice of the Iowa Supreme Court. Ternus, a graduate of
Drake University Law School, was appointed to her current position in
2006, and is the first woman to serve as chief justice of Iowa's
highest court. She has been a member on the Iowa Supreme Court since
1993.



"Let's DU Lunch" is sponsored by the Drake University Central Iowa Alumni Chapter and the Greater Des Moines Partnership.
Cost is $15 per lunch. Reservations are recommended due to limited
seating. For more information or reservations, contact the Drake Office
of Alumni and Parent Programs at 515-271-3848 or
dottie.johnson@drake.edu.