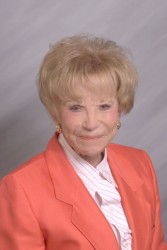 Madelyn M. Levitt
Longtime Drake trustee and benefactor Madelyn M. Levitt will receive the prestigious Woodrow Wilson Award for Public Service from The Woodrow Wilson International Center for Scholars of the Smithsonian Institution at a dinner on Wednesday, Sept. 19, at the Downtown Marriott.
The dinner, which will be chaired by J. Barry and Michele Griswell, also will honor Des Moines businessman John Pappajohn, who will receive the Woodrow Wilson Award for Corporate Citizenship for his corporate accomplishments, community involvement and philanthropic dedication. He is a strong supporter of education and established the John Pappajohn Entrepreneurial Institute at Drake.
"Maddie Levitt and John Pappajohn are two leaders who truly embody the spirit of Woodrow Wilson and his ideals of scholarship and public service," said Lee H. Hamilton, president and director of the Woodrow Wilson Center. "We are very pleased that the Board of Trustees has decided to honor them with the Woodrow Wilson Awards."
In addition to the awards dinner, the Woodrow Wilson Center will sponsor a public lecture and panel discussion titled "Civility, Society and Politics: Is There a Problem?" at 3:30 p.m. Sept. 19 in Sheslow Auditorium in Old Main, 2507 University Ave. Donald Wolfensberger, director of the Congress Project at the center, will give the lecture, which will be followed by a panel discussion moderated by Dennis Goldford, Drake professor of politics. Attendance is free, but RSVPs are required. To RSVP, send an e-mail to development@wilsoncenter.org.
Levitt, an honorary Drake alumna, was selected for the Public Service Award for her exemplary dedication to public service and commitment to Des Moines and the state of Iowa. Levitt's life resembles that of Woodrow Wilson, as she has devoted much of it to the advancement of higher education. At Drake, she has served as special counsel to the president and national chair of two fundraising campaigns — efforts that have contributed to the education of countless young men and women and provided them with first-class facilities and resources. The first campaign she led exceeded its $115 million goal and raised $130 million. Under her leadership, the second campaign reached its $190 million goal, including Levitt's personal gift of $5 million.
Beyond Drake, Levitt is a true community leader who leads by example, giving generously of her time and fortune as the current chair of Des Moines Community Foundation and through service on the boards of United Way of Central Iowa, Boys and Girls Clubs of Central Iowa and the National Women's Philanthropy Institute, among many others.
The Woodrow Wilson International Center for Scholars aims to unite the world of ideas to the world of policy by supporting pre-eminent scholarship and linking that scholarship to issues of concern to officials in Washington. Congress established the center in 1968 as the official, national memorial to President Wilson. Unlike the physical monuments in the nation's capital, it is a living memorial whose work and scholarship commemorates "the ideals and concerns of Woodrow Wilson."