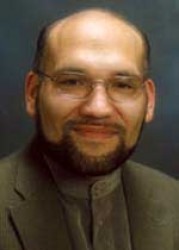 Michael Kraig
Michael Kraig will give a lecture on "Ensuring the U.S. and Global Security in an Inter-Connected World," from 12:30-1:45 p.m., on Tuesday, Sept. 18, in Bulldog Theater in Olmsted Center, 2875 University Avenue.


The free public lecture is as part of Drake University's Center for Global Citizenship lecture series titled "Debating America's Role in the World," which originally scheduled Robert Hunter, who is no longer able to speak on this date. The series features experts on foreign affairs who discuss a variety of topics including terrorism, the Iraq war and the Middle East, hunger, pandemics, energy and climate change.
Kraig is the director of policy analysis and dialogue at the Stanley Foundation in Muscatine, Iowa. He currently manages several of the foundation's initiatives that focus on the United Nations and global institutions; United States and global security in Asia and the Middle East; rising powers and nonproliferation; arms control; and disarmament. These initiatives aim to widen the policy debate in the United States and within foreign capitols by discussing more cooperative policy options that could make the world and the United States more secure. Kraig received his doctorate in political science from the University of Buffalo, New York with a concentration in international relations, U.S. foreign policy and comparative politics.
In addition to speaking at Drake, many of the experts will also give lectures at Grinnell College and the University of Iowa as part of a collaboration among the three schools and the National Security Network.
For more information about the series, call 515-271-2169. Events are subject to change. For the latest information, visit the Web site.