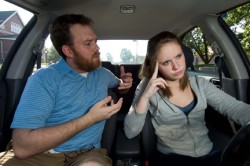 Eric Selander and Caitlin DeLong star in Drake's production of "Autobahn."
CONTACT: Tory Olson, 515-271-1834, tory.olson@drake.edu
Drake University Theatre opens the fall season with "Autobahn," a series of short plays by Neil LaBute that take place in the front seats of cars. Performances began Thursday and continue through Sunday, Sept. 30, in Studio 55 of the Harmon Fine Arts Center, 25th Street and Carpenter Avenue.
From a romantic tryst gone awry, to a revealing soliloquy by a foster mother on her journey home, the plays are at times thought-provoking and often humorously quirky. Due to mature content, "Autobahn" is not recommended for children.
"For most people, the automobile is a symbol of freedom," said Director Michael Rothmayer, assistant professor of theatre arts. "In 'Autobahn,' Neil LaBute examines the space within the automobile itself and shows us how that freedom can sometimes be a prison."
"Autobahn" was originally performed by The Manhattan Class Company Theater of New York with stars Susan Sarandon, Kevin Bacon and Kyra Sedgwick, and has received stellar national and international reviews.
Performances start at 8 p.m. on Sept. 27, 28 and 29 and at 2 p.m. on Sept. 29 and 30. To purchase tickets, call the Drake University Fine Arts Center Box Office at 515-271-3841. Tickets are $5 for adults and $3 for students and senior citizens and $1 with a Drake ID. Ticket reservations are suggested because of limited seating.