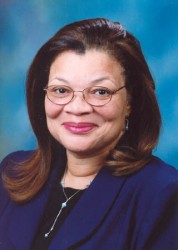 Alveda C. King
CONTACT: Tim Laehn, drakerespectforlife@yahoo.com;

Tory Olson, 515-271-1834, tory.olson@drake.edu
Alveda C. King, Gospel of Life leader, and a niece of Martin Luther King Jr., will speak at Drake University on the racial implications of abortion at 8 p.m., Thursday, Sept. 27, in Sheslow Auditorium in Old Main, 2507 University Ave. The speech, which is free and open to the public, is titled "Life, Liberty and Justice."
King is director of African American Outreach for the Christian ministry, Gospel of Life. The ministry aims to defend the rights and life for preborn children. King wrote "Sons of Thunder: The King Family Legacy" and "I Don't Want Your Man, I Want My Own," and has worked as an accomplished actress and songwriter. She also served in the Georgia State House of Representatives.
In addition to her lecture at Drake, King will speak at Iowa State on Wednesday, Sept. 26. King's visit is sponsored and organized by Iowa State University Students for Life, the Iowa State Committee on Lectures and Drake University Respect for Life.
For more information about the lecture, contact Tim Laehn with Drake University Respect for Life at drakerespectforlife@yahoo.com.